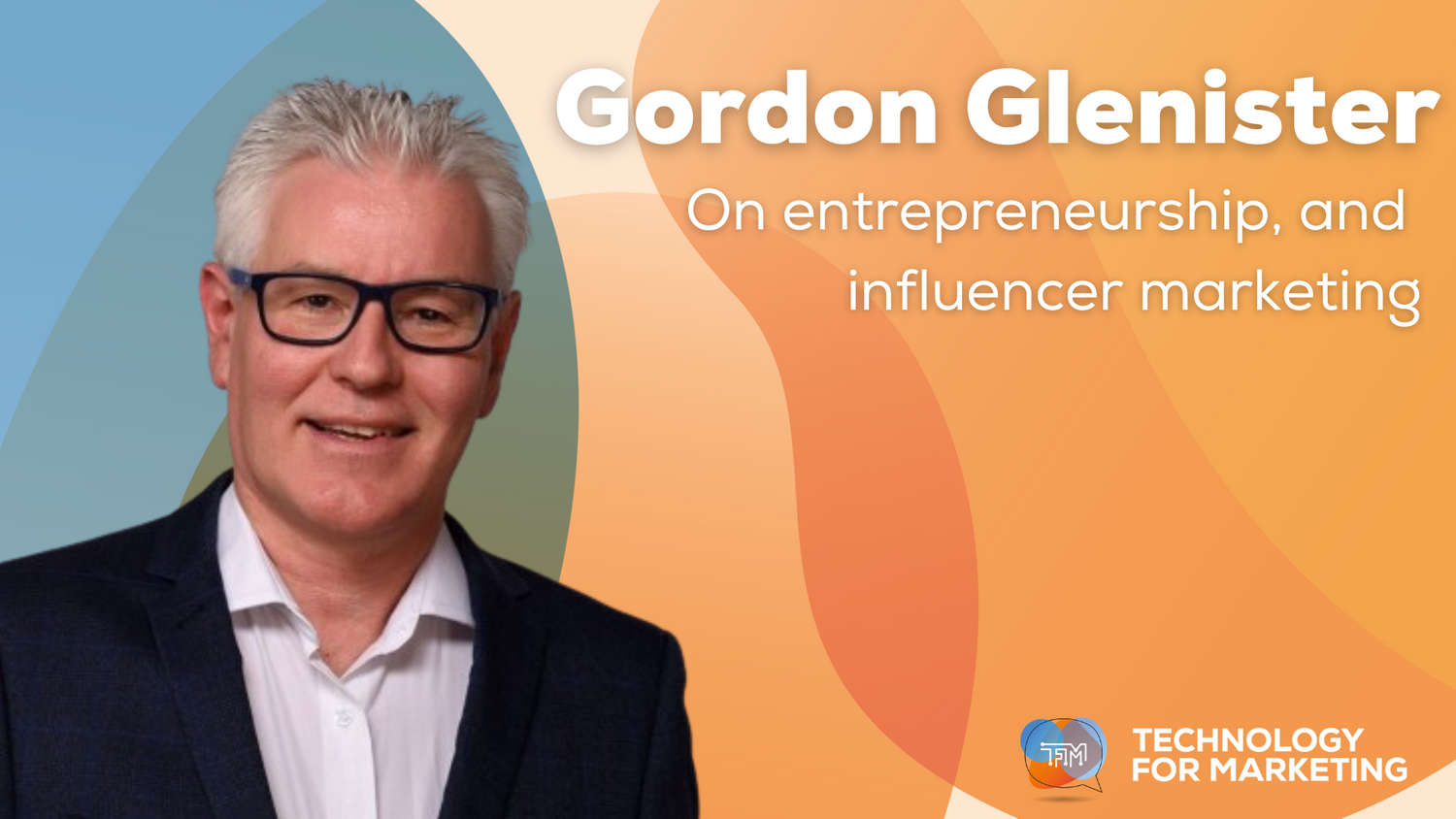 Meet Gordon, a seasoned entrepreneur with a diverse career spanning sale and leadership. His journey began with a passion for gardening instilled by his grandmother, which led him to start a successful gardening business as a teenager. His early ventures instilled a deep commitment to customer satisfaction. Later, Gordon excelled in sales roles, particularly in the wine and drinks industry. His innovative campaigns and personalised approach set him apart. After successful stints, Gordon transitioned to lead the British Promotional Merchandise Association for 11 years, driving significant industry transformation. Today, he's a respected consultant, author, and podcast host, sharing insights on influence and community building.
You had an entrepreneurial spirit very young. Can you tell us more about how it started, what you learned from those early experiences, and how it brought you to the world of influence?
Well, funny enough, my grandmother was a horticulturalist. Because of my grandmother's influence, I got involved in gardening. I started mowing the lawn at home and making the garden look nice. Then I thought, "Hey, I can do this for other people." I started a little gardening business, just mowing lawns and looking after gardens. Long story short, being entrepreneurial at a young age gave me valuable insights, especially regarding customer service and care. I always wanted customers to be happy with my work.
Later, I ventured into sales, and these experiences taught me about customer relationships and influence. In 2000, I launched my own business after a year in the incentive industry. I simultaneously ran two companies: an incentives business and a landscape garden design company. While I enjoyed it, scaling was challenging. I was later headhunted by the British Promotional Merchandise Association, where I served as Director General for 11 years. During my tenure, we made significant strides in education and events. In 2022, I wrote my first book, which became finalist in the Business Book Awards. I also started the Influence Global Podcast, now with over 110 episodes. I've learned the value of association in growing influence. Beyond consultancy, I run Membership World, a community for association leaders. This parallels the influencer space's focus on building communities and enhancing influence. That sums up my journey so far.
Let talk about influencer marketing. What are some common misconceptions and myths that you often encounter about influencers?
The most common misconception is that every influencer is a young female, around 23 years old, and exclusively on Instagram. Influencer marketing is incredibly diverse, spanning both B2C and B2B spaces. There are grandmothers in their 80s who are TikTok sensations. Anyone can be an influencer; it's about having a passion for what you believe in and conveying it uniquely. We all love stories that entertain, educate, and inspire, which are the three pillars of great content. Another myth is that all influencers are wealthy and have an easy lifestyle. That's far from true. Building a social media presence takes time, especially due to algorithm changes and increased online competition. Lastly, expecting immediate sales from influencer marketing is unrealistic. It's about creating a relationship with an influencer who aligns with your target audience.
What are some core principles that you believe businesses should know when working with influencers?
First, research is crucial. Understand your target audience and ensure it matches the influencer's audience. Don't assume; influencer media packs can provide valuable insights into demographics and location. Additionally, make sure your influencer aligns with your brand's values. Use experts, consultants, influencer agencies, or platforms to help you find the right influencer based on specific criteria. Clearly define your goals; are you aiming for brand awareness or driving website traffic? Different influencers suit different goals. Finally, don't treat influencers as mere ad platforms; involve them in the creative process. Build relationships and align with them for long-term success. Remember, influencers are human beings with their own challenges and priorities. The best campaigns are built on strong relationships, benefiting both the brand and the influencer's audience.
Do you have any examples that come to your mind when you think of a successful partnership between a brand and an influencer?
Many brands have created fantastic campaigns. For instance, consider PrettyLittleThing in the clothing industry; they've built highly successful ambassador programs. These brands have become deeply ingrained in their target audience. Young girls, for example, aspire to resemble the models they feature. It's noteworthy that the photo shoots initially used online have extended into other forms of media, such as advertisements in the London Underground and bus shelters. This shift demonstrates how effective online media is transitioning into more traditional advertising channels.
It's also crucial for influencers to be aware of the details when signing contracts. They should ensure clarity regarding the usage of their creative work and prevent any potential exploitation. Sometimes, an influencer might agree to take pictures for a fee, only to later discover their image on a billboard or elsewhere, which could have been worth much more. This complexity is why many top influencers have talent agents representing their interests.
Gordon's conference at Technology for Marketing 2023
Tell us more about one of your Technology for Marketing and eCommerce Expo 2023 speaking session
"Influencer panel discussion: How influencers can help build new audiences for your brand"
This session focuses on the critical role of eCommerce in influencer marketing. We'll have individuals who resonate with your ideal target audience sharing their insights from a unique perspective. They'll discuss what they've accomplished, how they achieved it, and the success criteria they've employed. For instance, platforms like Amazon have embraced influencers on a massive scale. It's like having influencer TV, and these influencers come with a dedicated fan base. The key is alignment—if the product fits the audience, it can thrive. These influencers are adept at showcasing products effectively, including creating compelling call-to-actions. They often earn through affiliate links, making it a powerful vehicle for both influencers and businesses.
I conducted a session on engaging and collaborating with influencers at last year's eCommerce show, and it's a crucial topic. Many people think they have some knowledge, but there's always more to learn. Attending the session will certainly provide valuable insights and enlightenment on this ever-evolving field. Don't miss it!
Don't miss your chance to see Gordon Glenister live! Join us at eCommerce Expo and Technology for Marketing 2023!
Gordon will also be presenting the Marketing Influencers Top 100 Index: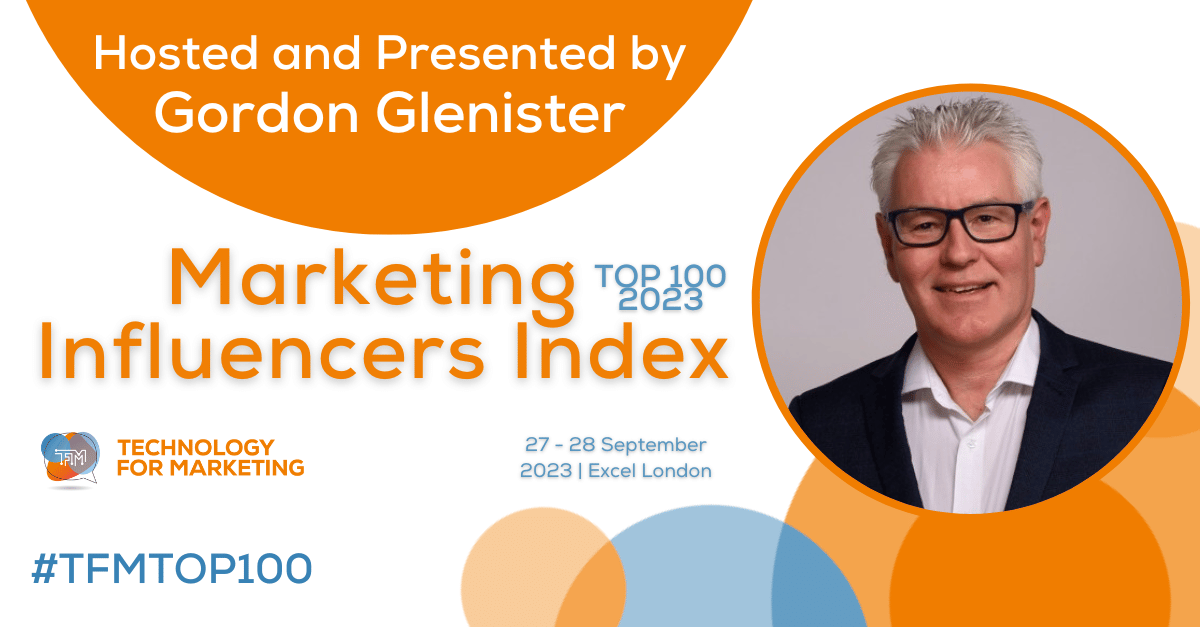 QUICK FIRE QUESTIONS
What's your favourite social media platform?
Instagram.
Do you prefer video or photos?
Videos.
What do you see in the future of marketing?
I believe AI will play a significant role, but as a copilot, not the pilot. Personalisation will increase, but the value of relationships will remain vital.
What is one of your proudest moments in your career so far?
Being shortlisted for the Business Book of the Year awards last year after writing my first book, which was later translated into Portuguese and turned into a documentary film.
What is something you're still looking forward to achieving in your career?
I aim to expand my influencer marketing program globally, with a focus on the Middle East and America.
Could you give me the names of 2-3 influencers that inspire you personally?
Sure, I admire AJ Anthony James, known for his engaging video content on LinkedIn. Jane Mallion, the English cream tea expert, captivates with her quintessentially English charm. Lastly, I'm currently enrolled in Dan Thomas's Reels Millionaire course, which is proving to be really valuable.
News for You
We're sorry, but we couldn't find any results that match your search criteria. Please try again with different keywords or filters.