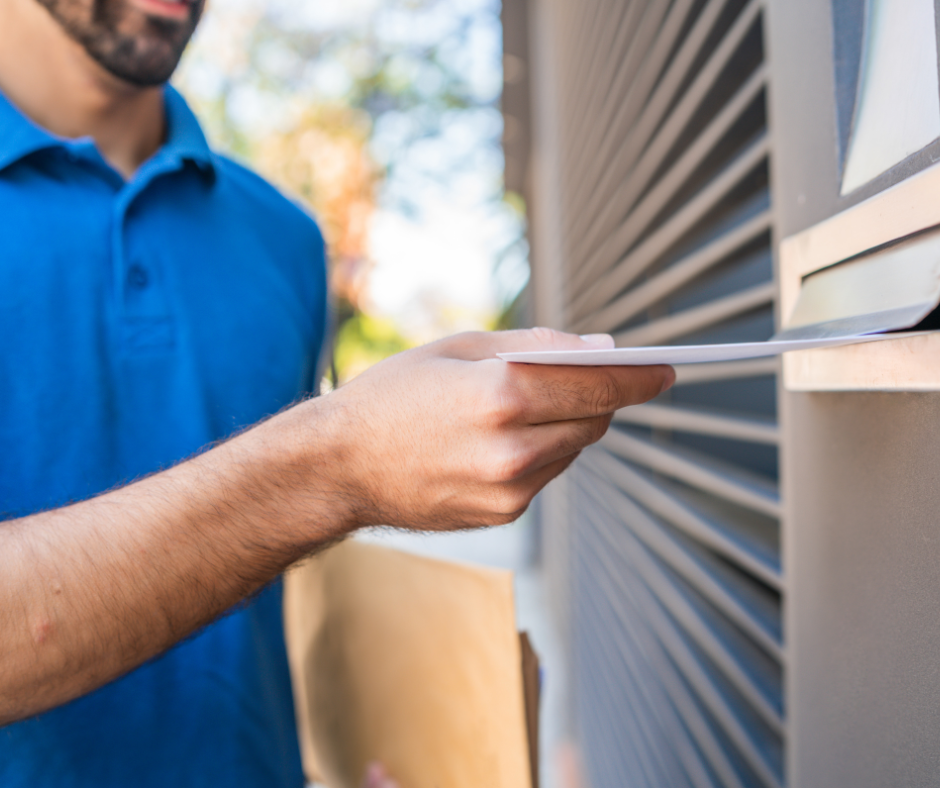 POST NATION: Brits are so fed up with emails that retail giants now send reminder LETTERS for customers to check digital inboxes
'Have you left something behind?'
Brits are suffering from 'email fatigue' – with online retailers now sending physical letters to remind customers of items sitting in their digital shopping baskets.
Healthy food delivery firms and fashion businesses are among the types of companies taking to snail mail to encourage shoppers to return online and finish their purchase.
Others in the estate agency and utilities sectors also send letters and postcards – featuring QR codes for easy digital access.
A handful of retailers are even including a picture of the item(s) that has been abandoned in the basket.
This revelation follows new data which shows that around 20-30% of marketing emails are opened – compared to 90% of post that comes through the letterbox.
And the percentage of people who click on a link in those emails has dropped to around 2-3%.
Sam Heaton of Stannp.com, which provides business-to-business direct mail services and helps over 40,000 customers grow revenue, retain and offer updates to customers, and drive reviews, said the number of people opening marketing emails has "gone off a cliff".
And he points to the vast array of communication channels currently available diluting the importance of email as a method of contact.
"Essentially we have reached spam overload, so firms are reverting to more traditional methods again," he told Jam Prime.
"As well as sending letters, they sometimes send postcards.
"We have so many options to communicate now.
"Our devices are constantly pinging with notifications from email, SMS, WhatsApp, Messenger, and social media channels.
"And an increasing number of people actively try to 'switch off' from digital communications, with the rise of ad blockers and spam filters.
"Around 45% of emails are now considered spam and consumers are becoming more selective over which emails they stay subscribed to.
"It's almost too much effort to be constantly deleting emails, let alone reading and then taking action."
QR codes serve multiple purposes, allowing businesses to direct recipients straight to a designated webpage, as well as enabling tracking features that work to construct insightful reports on direct mail campaigns by monitoring how many clients have scanned the code.
The psychology behind sending letters is that when an online user deals with a digital-only brand the loyalty to that company is transient – compared to tangible and tactile physical mail.
Research and analysis conducted by Royal Mail, published in 'The Private Life of Mail', concluded that 57% of people claim receiving mail makes them feel more valued.
This research also revealed that up to 39% of consumers have a dedicated display area in their home for their mail.
Digital advertising has generally experienced a reputational decline over the past decade, with the majority of UK consumers describing digital advertising as "ineffective".
In the early days of online advertising, email open rates before 2000 were around 60-70% and the figures have declined steadily since.
From 2006, the average open rate was just above 20% and this has both increased and declined since then.
This has declined more quickly over the past five years as digital marketing and email marketing became fully saturated.
And it's not only happening in the UK – it's occurring globally too.
But the British consumer has the most negative view of digital advertising worldwide, with 27% reporting digital ads are "becoming worse" as the digital ad space becomes increasingly saturated.
Data released by Statista revealed that as of 2023, Brits are sent 6.9 billion spam emails every day.
Sam added: "Junk mail is now email with Gen Z.
"They rarely get a real letter sent to them and they react differently to older generations who remember a world before email.
"Advertising mail has grown by 42% in the last five years and on average advertising mail is kept in a household for 17 days.
"Conversely 57% of email addresses are being abandoned as there is simply too much junk email.
"People are creating email addresses solely for marketing emails and never have any intention to even login to these accounts.
"Whilst it might be harder to track the 'open' rate of direct mail, the Stannp.com platform allows you track the mail you send from production, through the postal system and shows when it has been delivered to the recipient.
"On average, Stannp.com can see our customers experience an average QR Code scan rate of over 15%.
"We find that the call-to-action on the QR code is as impactful as the subject line on an email."
News for You
We're sorry, but we couldn't find any results that match your search criteria. Please try again with different keywords or filters.