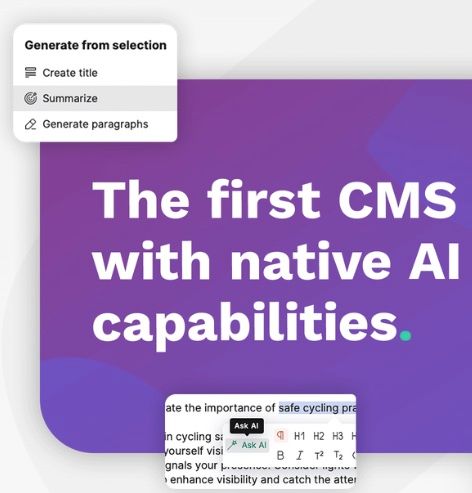 Kontent.ai introduces industry's first CMS with native AI capabilities
Transforming the content management process across organizations - faster, better, and smarter.
NEW YORK and BRNO, Czech Republic--June 15, 2023--Industry-leading headless CMS Kontent.ai today announced native AI capabilities that will further transform the ability to have complete control to create and manage content across an organization. Building native AI-powered skills into Kontent.ai is an evolution of the solution, designed to meet evolving customer and market needs.
Unlike other solutions, Kontent.ai delivers the first and only context-aware AI that is fully integrated into the product. This provides control of content from ideation to editing to customer experience in real-time, showing what content will look like on your own websites and applications. As demands for content across organizations increase, teams struggle to manage, maintain, and govern content at scale. Kontent.ai solves this challenge in a single solution.
"Native AI skills inside Kontent.ai leverage the power of artificial intelligence while minimizing the risks often associated with it," said Petr Palas, Founder, Kontent.ai. "Content management challenges will only increase as more content is generated with the adoption of AI. However, we anticipated this and built a solution that works across the organization for the marketer, the developer, and the content creator.
Benefits of native AI skills include:
Increased efficiency - Improve all stages of the content management process from creation to review with the power and speed of AI
Faster time to value - Leverage native AI skills immediately without the need for external integrations, plug-ins, or development resources within a headless CMS
Consistency at scale - Develop core content, versions, style, tone of voice, and more instantly
Simplified content governance - Safeguard brand and content guidelines seamlessly
"The vision and innovation of Kontent.ai is what makes them a trusted partner," reports Michael D'Orio, VP of Marketing from American Bath Group. "As a long-term customer, who just won the MACH Impact Awards for Best Overall Change Product by the MACH Alliance, we've reached new levels of success with Kontent.ai and look forward to the newest solution."
Learn more about the native AI capabilities of Kontent.ai on the upcoming webinar June 20, 2023. An early access program for current customers is available, join the waitlist here.
Media Contact
Erika Goldwater, PR & Communications
erika.goldwater@chameleon.co
+1 6174073578
About Kontent.ai
Kontent.ai is the headless CMS that enables organizations to have complete control over content to speed up time to market and engage meaningfully with audiences across channels. In the Kontent.ai platform, governance underpins all operations and workflows. Content creators collaborate in real time, making it easier to land on the best ideas, reduce bottlenecks, and maximize the impact of everything that's created. Kontent.ai is an API-first cloud-native solution, so developers can use their favorite technologies, languages, and frameworks to deliver seamless experiences that look and feel great on any channel. With offices in New York, London, Amsterdam, Brno, and Sydney, Kontent.ai supports global customers including Zurich Insurance, Algolia, and Oxford University. Kontent.ai is a Microsoft partner and MACH Alliance member, recognized by both Gartner and Forrester. Visit kontent.ai to learn more about how we empower leading organizations.
https://www.youtube.com/watch?v=PD8Jj_Mie6A
News for You
We're sorry, but we couldn't find any results that match your search criteria. Please try again with different keywords or filters.