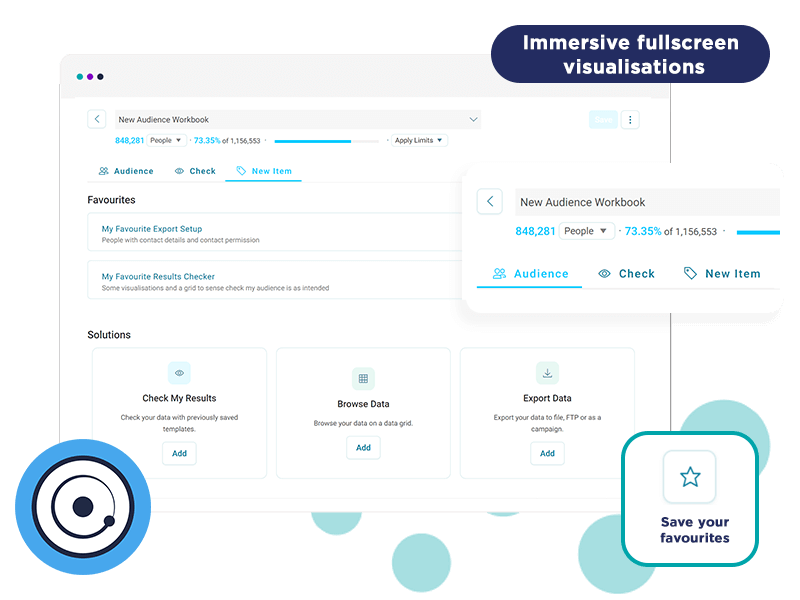 Apteco Q2 2023 software release now available
20 Jun 2023
Apteco
Hall: N14-N20 Stand: D58
We're halfway through the year, and our Q2 release includes some fantastic new functionality you won't want to miss out on!
Our headline feature from our Q2 2023 software release is the introduction of audience workbooks in Apteco Orbit. Workbooks form part of our drive to bring more analytics into Orbit, laying the groundwork for more advanced analytics and visualisation features in the future. Workbooks will offer a more flexible approach to analysis with full screen visualisations all conveniently presented in a new horizontal tab, and all using the same underlying data selection for easy navigation.
Audience workbooks will soon allow users to explore and engage with dynamic and immersive full screen visualisations to delve deeper into their data, easily add new visualisations via favourites, tools and solutions and use visualisations in both dashboards and workbooks interchangeably.
Also in Orbit, expressions in audiences and dashboard filters have been introduced, allowing users to implement expression logic for the inclusion or exclusion of records. Whether users are working with audience selections or navigating the various dashboard filters such as user filters, predefined filters, or tile filters, expressions are at their disposal to refine and tailor data views. These expressions as filters allow users to gain a deep understanding of an underlying data store and its manipulation, providing precise control over data analysis and visualisation within Orbit.
The addition of data grids as dashboard tiles allows users to view and interact with rows of data in a table format, right from a dashboard. Offering two distinct viewing options, the data grid tile is perfect for displaying multiple records, while the page view excels at displaying single records. The grid facilitates the selection of multiple records for easy filtering.
This release also features a new metric called incremental insight in the Apteco FastStats modelling environment. The new metric provides a single measure which enables the choosing of dimensions which are both predictive and diverse. Selecting the top dimensions based on incremental insight results in a broader range of variables which would not otherwise be chosen.
Users can now incorporate text variables as dimensions in their dashboard tiles, such as 'company name' or 'postcode' allowing them to explore and analyse text-based dimensions, uncover hidden patterns, trends, and correlations that were previously elusive, and gain a deeper understanding of their target audience.
Finally, in Apteco FastStats, scatter charts in the modelling environment can now use bubbles to show both the insight PWE (using colour) and insight coverage (using size). When the chart option to colour by insight PWE is chosen, the size is automatically based on insight coverage, making it easier to choose between dimensions of similar insight PWE – since generally higher coverage is preferable given that the PWE is similar.
Apteco is constantly investing in the development of new features, design and evolution of our software to meet the diverse needs of the marketing community. Learn more by visiting the what's new at Apteco page.
News for You
We're sorry, but we couldn't find any results that match your search criteria. Please try again with different keywords or filters.