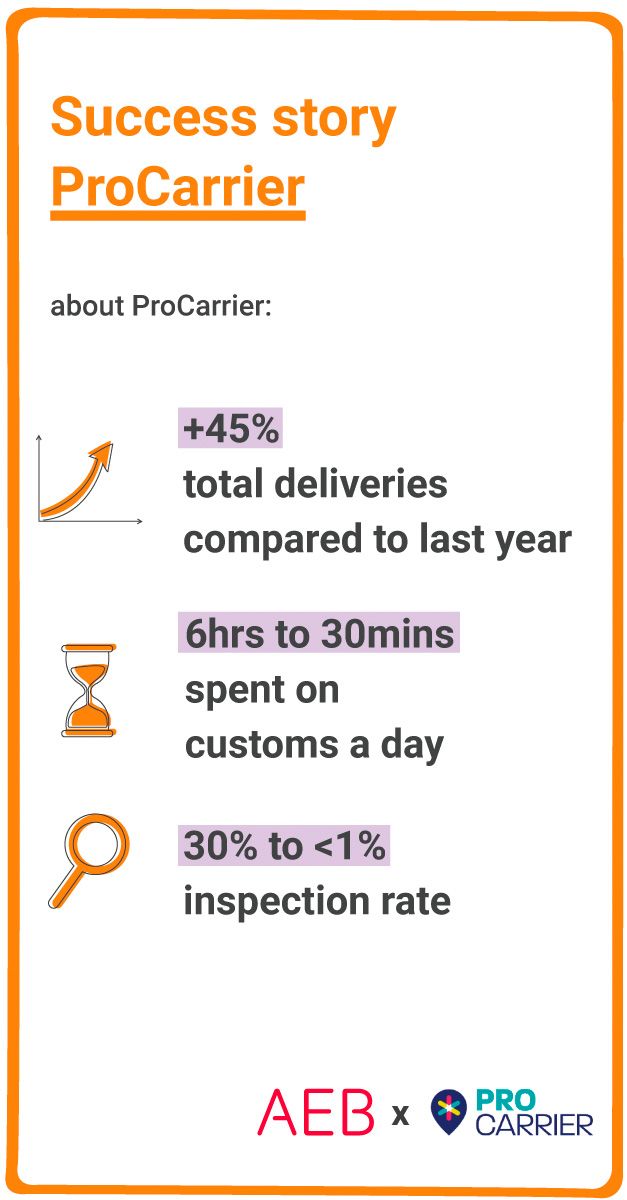 AEB Customs Management shortlisted for eCommerce Awards 2023
15 Aug 2023
AEB
Hall: N14-N20 Stand: N22
High inspection rate, incorrect data
The entry in the categories "Best eCommerce Support Business (over 100 Employees)" and the "Best Innovation in Delivery" outlined Pro Carrier's challenges with its previous solution, which still required a good deal of manual work, preventing scalability and growth. A high inspection rate of 30% at borders due to bulk clearance was another factor slowing Pro Carrier down. If just one parcel on a truck was singled out for inspection, because of incomplete or incorrect data, for instance, the entire truck had to wait for it. With demand for their services growing, Pro Carrier needed to up the number of staff dealing with customs clearance, while working with customs agents in the EU often meant being left in the dark about the status of customs declarations. A dissatisfactory situation that urgently called for improvement.
Automation to the rescue

The solution AEB and Hurricane set up for Pro Carrier makes full use of the functions available in AEB's customs management platform and Hurricane's AI-based data enrichment. In detail, this means Hurricane's data enhancement API Zephyr ensures that parcels have the right data – including HS6 codes, product descriptions and 8- and 10- digit import and export codes - to pass smoothly through customs.
The data thus enhanced is then used by AEB's multi-country customs management platform. When each parcel is scanned at Pro Carrier's warehouse in the UK or EU, an export declaration is created and automatically sent to the customs authority or forwarded to a customs broker. In both instances, Pro Carrier remains in control of the process and can follow every step of the import process. It has complete transparency on the status of clearance and the location of the individual parcels.  
Inspection rate reduced to under 1%

As a result of the collaboration with AEB and Hurricane, Pro Carrier was able to reduce their inspection rate from 30% to under 1%, meaning parcels moved from retailer to consumer without interruption or delay. This is due to the switch from bulk clearance to single parcel clearance. If a parcel is flagged for inspection now, it can be singled out easily, while the remaining parcels continue on their way.

Relying on the AEB customs management platform also allowed Pro Carrier to free up staff by reducing the time spent on customs clearances from 6 hours per day to just 30 minutes, despite the switch to single parcel clearance, thanks to reliable automation. The new process involving solutions from AEB and Hurricane enabled Pro Carrier to provide clients with an unmatched assurance of their product arriving on time and in full.
All three companies are very happy about making the shortlist and are looking forward to the awards ceremony, which will be held as part of the eCommerce Expo in London in September.
News for You
We're sorry, but we couldn't find any results that match your search criteria. Please try again with different keywords or filters.