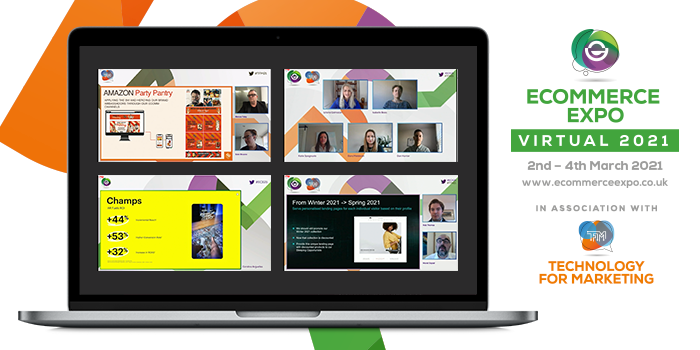 Facebook, the rise of Snapchat and TikTok, and the growing influence of social commerce.
A prominent trend in ecommerce marketing is the growing influence of social commerce. This piece will review how this was captured over the three virtual days at eCommerce Expo in association with Technology for Marketing Virtual '21.
Zehra Chatoo, strategic planning partner at Facebook, described 2020 as "the mass digital education of the Great British public", with everyone needing to learn new digital skills.
"Whether that is online grocery orders or communicating to brands via messenger bots, we've had to find new ways to connect consumers and brands within the digital environment," she explained.
"As a result, we've seen the biggest period of business innovation in four generations."
And much of that is in the social commerce space. Delegates at eCommerce Expo heard from Snapchat product marketing manager for augmented reality (AR), Carolina Arguelles, who talked up the power of modern tech and said "every business needs a camera strategy" to appeal to Generation Z.
Showcasing how Snapchat has successfully formed more commercial partnerships in 2020, she said AR "has moved from a one-off experiment to a daily habit" for many consumers, with over 75% of Snapchat's 265 million users engaging with AR every day.
Eyewear retailer Clearly has worked with Snapchat to introduce an AR virtual try-on experience and "seamless buy flow" within the social media app, for example.
Social success and emerging platforms
Janis Thomas, eCommerce & marketing director at skincare brand Look Fabulous Forever, said: "Particularly in social, content is everything – it is the thumb stopping movement.
"You have to have an instant reason why you'd engage, how you can instantly in a microsecond identify this is relevant to you and you want to engage with."
She cautioned that social media and social selling is "a science as well as an art", advising brands they need to ensure they know the objective of each creative, what they want people to do, and to understand "what happens next". Essentially, a well-thought-out and joined-up strategy is key to success in this space.
Although eCommerce Expo guests heard Thomas say "Facebook wins hands down" as a business platform, and Channable's Conor McIlduff describe Facebook Shops as evidence social media is taking eCommerce seriously, brands were advised to consider all options.
Rhys Westwell, head of social at Zenith UK, said: "It's not about one winning – social diversification is where we are at.
"It's not Facebook rules them all – there's different platforms for different behaviours and demographics."
He added: "It's about picking the right channels for the right audience and doing the right content on those channels."
Indeed, in Westwell's words, TikTok has "gone from zero to 100" over the last year in terms of competing with Facebook's ad products.
Carter said brands need to take the time to tailor their approach to each social channel, and admitted TikTok will be a focus for Only Curls in the year ahead.
"You can't just do what you've been doing on Instagram and apply it to TikTok," she warned.
"You've got to be relevant to that audience and follow the trends and do it in the right way. You do need to spend the time to learn the platform properly otherwise you'll be called out by Gen Z for being embarrassing."
Next week, I will review how businesses such as Avalara and Vertex discussed international growth developments and the new implications of cross border trade. Additionally, how Publicis Commerce, Lenovo and Verkeer used best practice in ecommerce omnichannel strategies - stay tuned.
Ben Sillitoe
Editor, journalist and copywriter, Sillitoe Media
News for You
We're sorry, but we couldn't find any results that match your search criteria. Please try again with different keywords or filters.