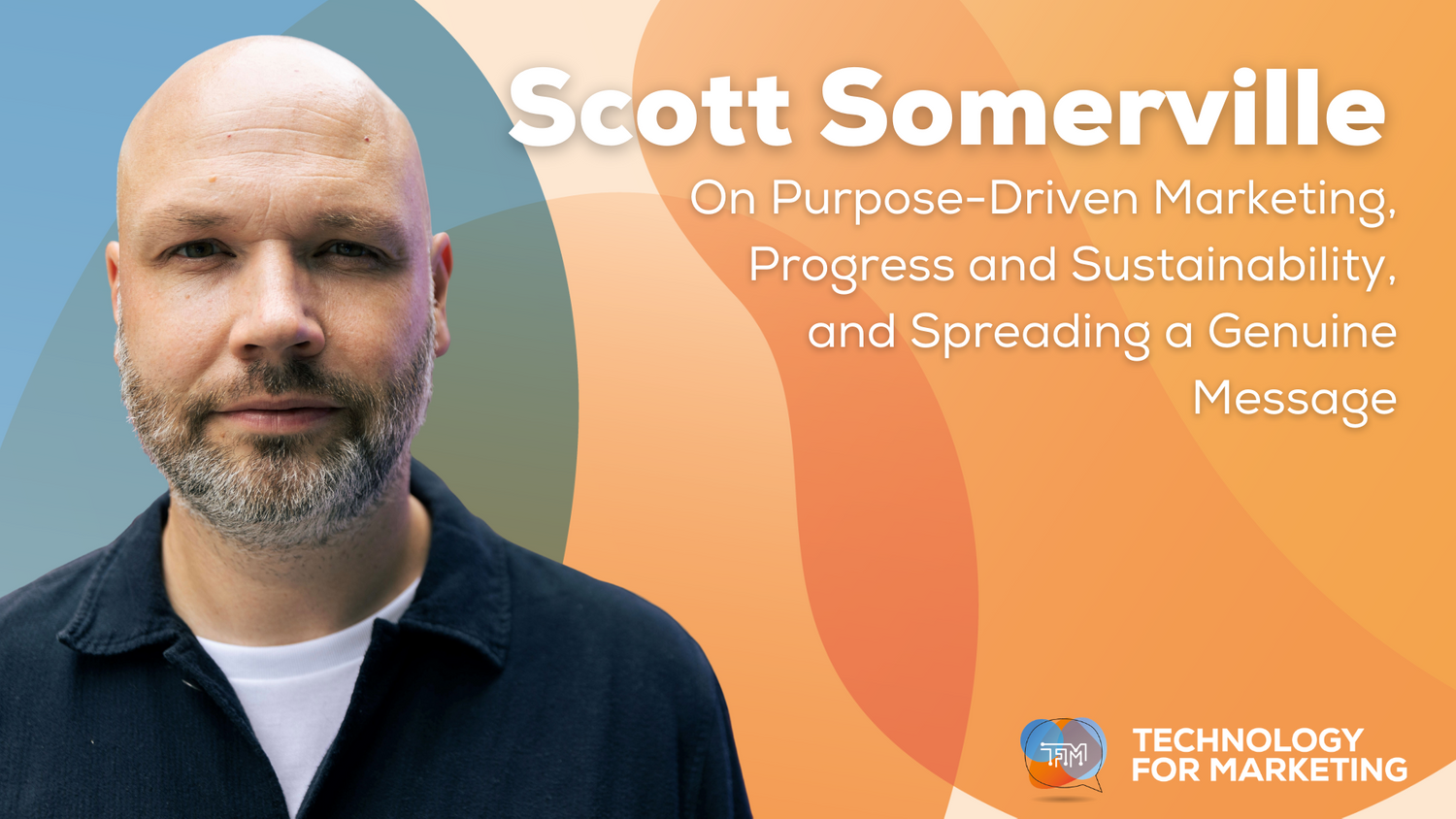 After a long and successful career across PR, advertising, and consultancy, Scott has worked his way up to being the Chief Marketing Officer of E.ON UK. With his team, they are on a mission to embody the purpose of a global company in its endeavours to provide smart, personalised, and sustainable energy.
We had the opportunity to sit with him to talk about what it means to have a genuine message in an industry faced with scrutiny, and how to craft impactful campaigns based on honesty and transparency, while not allowing perception to stand in the way of progress.
What inspired you to become a marketeer? How did you start in this field?
I was always curious. I was always interested in the news and what was going on in the world. I was never a fan of sitting and reading books and I was always contrasted with my sister who was a voracious reader and just devoured books. But what I really enjoyed was reading magazines!
At that time, magazines like The Face and Dazed were a window into the world, growing up in the bit of Scotland that I did. Just being interested in what was going on in the world made me think about PR or marketing. At one point I even considered journalism. But I had a couple of close friends who were born to be journalists. That showed me that it wasn't for me because if I came up against them in interviews I would lose. But I always had that curiosity.
Overall, there isn't an "I've always wanted to do this" kind of story. I stumbled into marketing because I've never been particularly good at staying in my lane, and I've always wanted to get involved in different things.
How does that curiosity translate into your campaigns and your work?
"What conversations have been taking place and how do we fit in?"
There are two ways of approaching things. In a marketing sense, there's the desire to showcase your product as the most interesting thing you can, and constantly wonder how to win the attention game. But that's obviously incredibly difficult. Then there's the other way, which I would argue is more effective, to understand your different audiences and what they are actually interested in. It's a bit of a cliché, but it's important to meet your audience where they are. For example, for E.ON, it's about making sure that we are very clear about the difference we're making in terms of having a sustainable approach, and that we state clearly the changes we've made as a company. We used to have large commercial interests in fossil fuel generation. We sold all of that off. Now we only supply 100% renewable electricity. Our growth areas are things like solar panels, electric vehicles…etc.
But to really embody that brand shift, it's not enough to just tell E.ON's story, we need to think "How do we tap into the conversations that are happening?" It's where that curiosity is helpful and it translates into having curiosity as a key bit of our disposition. For example, we tapped into the conversation about the BBC David Attenborough series and the debate surrounding it.
It's all about having that topicality.
What has been a successful campaign you've led based on those principles?
Before I dive into examples, I think our strategy relies on making sure that we are comfortable as a business talking about areas where we're not perfect, especially when it comes to sustainability. A real shift we had at E.ON a few years ago was finally having the confidence to be honest that we have sustainable goals as a company, that our results are a lot better than they were 5-6 years ago, but that we've still got a long way to go. We can talk about where we have made progress and we should be honest about where we've got to go further. From that perspective, it's given us a lot of confidence to be a bit punchier in some of our campaigns.
For example, as part of an impactful campaign we did around air pollution, we built huge Perspex lungs that were using real-time pollution data in London. So as people were traveling to work, the lungs were filling up with coloured (harmless) gases. With this campaign, we really made the invisible visible. The whole thing was backed by TV advertising, and we created PR and social media content that made its way around the media.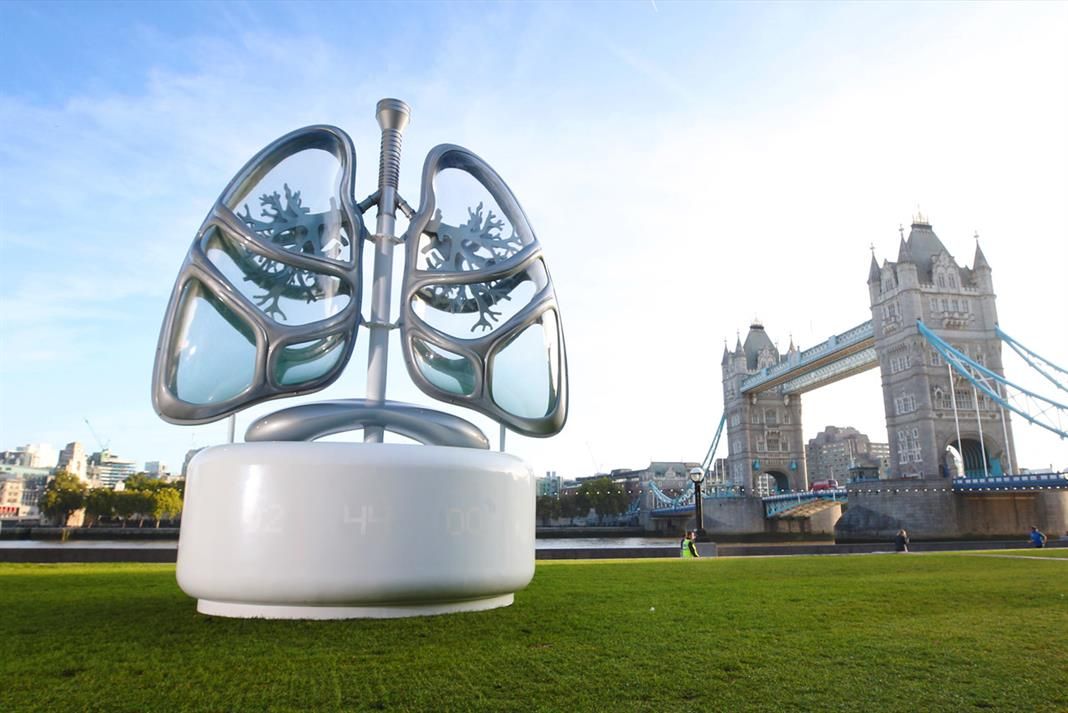 (Image source: E.ON UK)
Society has the answer to fighting climate change, the issue is that we are not enacting those changes fast enough. And so, for us as a company, it's important that we point that out. We can't let the fact that we're not perfect hold us back.
How do you balance this need to be genuine while facing scrutiny?
Any company – especially big companies – will face criticism, and that's a healthy thing. E.ON evolves in a highly scrutinised sector. But from my background in PR, I learned to have the confidence to know that you're far better off being part of a conversation based on facts than allowing a vacuum to be created. Because otherwise, that vacuum will be filled by the media and social media. If you're not out there talking about your work and what your beliefs are as a company, someone else will fill that gap for you. The other side of it is remembering that when you're being praised, you're probably not as good as the praise. And actually, when you're being criticised, it's probably not all that bad. The truth usually lies in the middle, but you've got to view things over a long period of time.
But above all, it is important to be genuine because people can see when you're not and you're far better off dealing with criticism than pretending it's not happening. If you're being false about who you are, you'll get found out sooner rather than later.
Scott's conference at Technology for Marketing 2023
Tell us more about your Technology for Marketing 2023 speaking session
"Purpose-driven branding: Not allowing perception to stand in the way of progress"
I've reflected a lot over the last few years, and there's always that hesitancy to be positive about the steps we have made as a company, and how that reflects on us as a marketing team. I think having been in a company that's faced a lot of scrutiny over the last decade or so, we rarely take the time to celebrate any form of progress. But what I hope to share in the talk is some of the hard-won battles, and the fact that a little success goes a very long way while waiting for perfection creates more problems in the long run than just taking small steps. And then you'll be surprised at how far you've come very quickly.
Don't miss your chance to see Scott Somerville live! Join us at Technology for Marketing 2023!
Quick-fire questions
What are your favourite social media platforms?
LinkedIn and Instagram.
What do you see in the future of marketing?
I think it will be simpler, with a return to the basics. I think we've all got ourselves tied in knots about trying to either be too clever or complicated at the moment.
What is your favourite digital tool?
Medium because it's a good way of getting across an awful lot of different opinions on topics that I wouldn't normally read about.
What marketing innovations are you excited about?
I actually think the removal of cookies because I think it will force people to get back to really thinking about how people and consumers behave. Many of us got really comfortable with the notion of being able to match data and tracking but I don't believe it was ever as effective as people claimed. I think taking cookies away will lead to a lot of innovation again, and open up an opportunity for different solutions.
What are your views on AI?
I think it will be interesting in terms of helping with processes and allowing us to focus on where we can add value as individuals. I also think that in a world of AI-created imagery, it'll create an opportunity for real craftspeople to be more appreciated. I think consumers and audiences will place a real premium on things that have been made by real people.
Should companies be on every social media platform?
Short answer: no. It comes back to being genuine. You need to use what is right for your brand and strategy. It's also not enough to have a presence somewhere if it's not executed well. There's nothing worse than having a presence but not taking it seriously.
News for You
We're sorry, but we couldn't find any results that match your search criteria. Please try again with different keywords or filters.