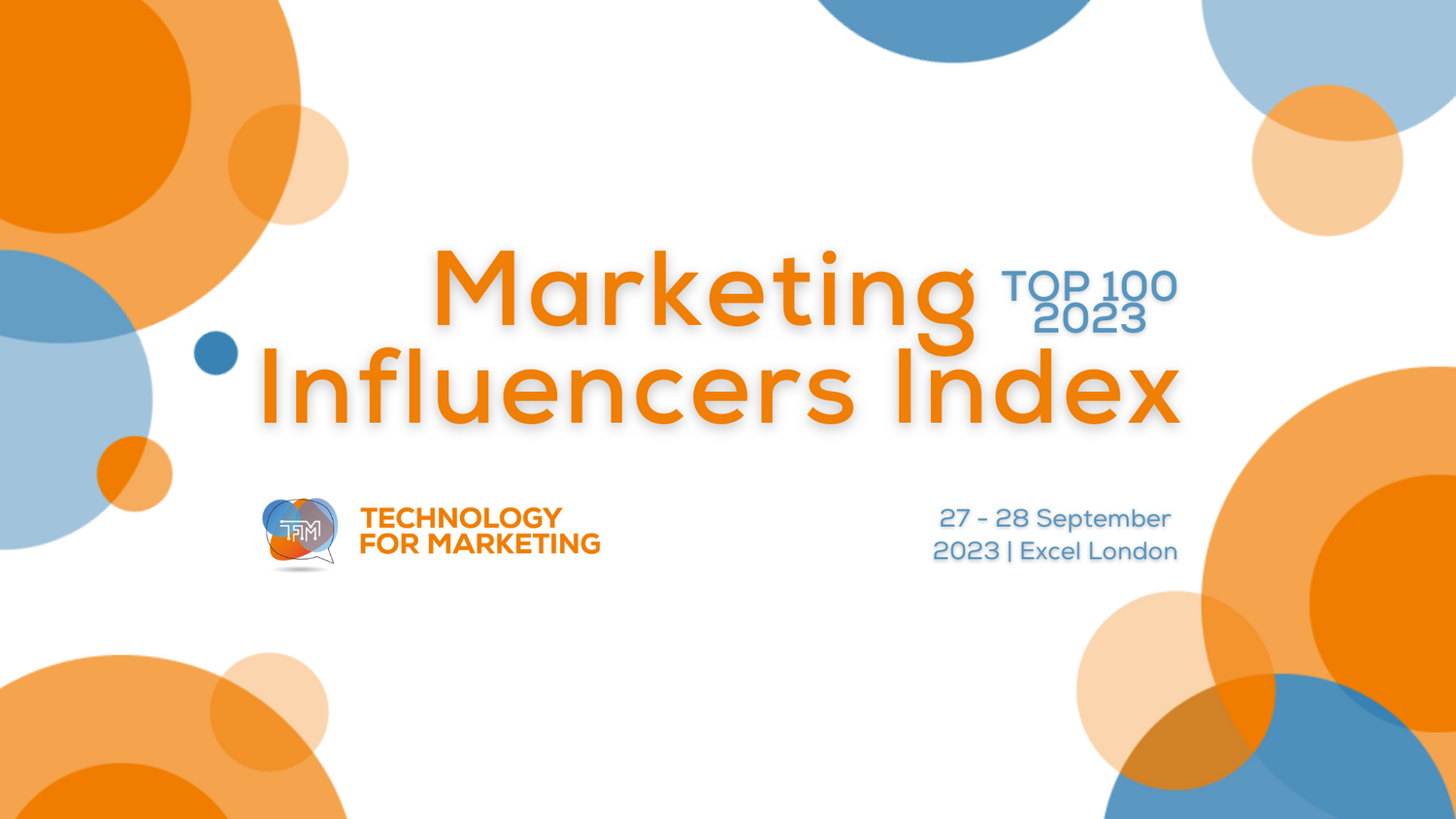 Technology for Marketing is excited to launch the Top 100 Marketing Influencers Index for 2023 to recognise those in the industry that use social media to influence, educate and innovate our sector. We are inviting nominations for the individuals who you think are the most influential in marketing on social media. You can nominate as many people as you wish, including yourself and we encourage you to post it on social media using #TFMTOP100.
The nomination process is simple:
- Enter your name or the name of the person you're nominating here
- Enter their social media URLs (Linkedin, Twitter)
- Enter a quick description of their online presence and work
Once the nominations close, a longlist of 250 will then be given to our partners running the Influencer Index campaign that will analyse the nominations based on independent data metrics:
- Followers - the number of people following you/the nominees.
- Engagement - the number of mentions, shares, links and impressions of your/the nominees' posts.
- Reach - how many people have seen your/the nominees' posts.
- Confirm that you or they meet the nomination criteria (listed below)
Nomination Criteria
We are celebrating the whole industry, so the nominations are open to everyone that fit within at least one of the following criteria. Whether you are:
A professional currently working in marketing, and with a social media presence. You might be a Digital Marketer, Customer Engagement Super Star, UX professional, or an ambitious creative marketer, and you love to share your work online.
An influencer whose content on social media partially or fully revolves around marketing and the marketing industry.
An influencer who markets brands and products and executes marketing campaigns.
We want to hear from you!
Once you've been nominated
The nomination form closes on Friday 28 July 2023. The Top 100 ranking influencers will be announced at Technology for Marketing 2023 - more details to follow.
Share your nomination with your followers with the hashtag #TFMTOP100 and by tagging Technology for Marketing!

News for You
We're sorry, but we couldn't find any results that match your search criteria. Please try again with different keywords or filters.
In the fast-paced digital landscape, where trends come and go, one tool has stood the test of time and continues to wield considerable influence: email. Access the exclusive Keynote insights from Tech ...

Bite-size updates on what happened in marketing this month, to keep you ahead of the curve and inform your campaigns.

Discover a career journey from corporate to charity, AI and LinkedIn insights, and the future of marketing from an industry influencer.

It's just a few days until Technology for Marketing, and our 300+ exhibitors are gearing up to offer you the best solutions in the industry. Who do you want to meet?

Roberta's tenure at Condé Nast emphasises social media, partnerships, and brand empowerment. Join her at Technology for Marketing for insights into renewing content and effective brand positioning.