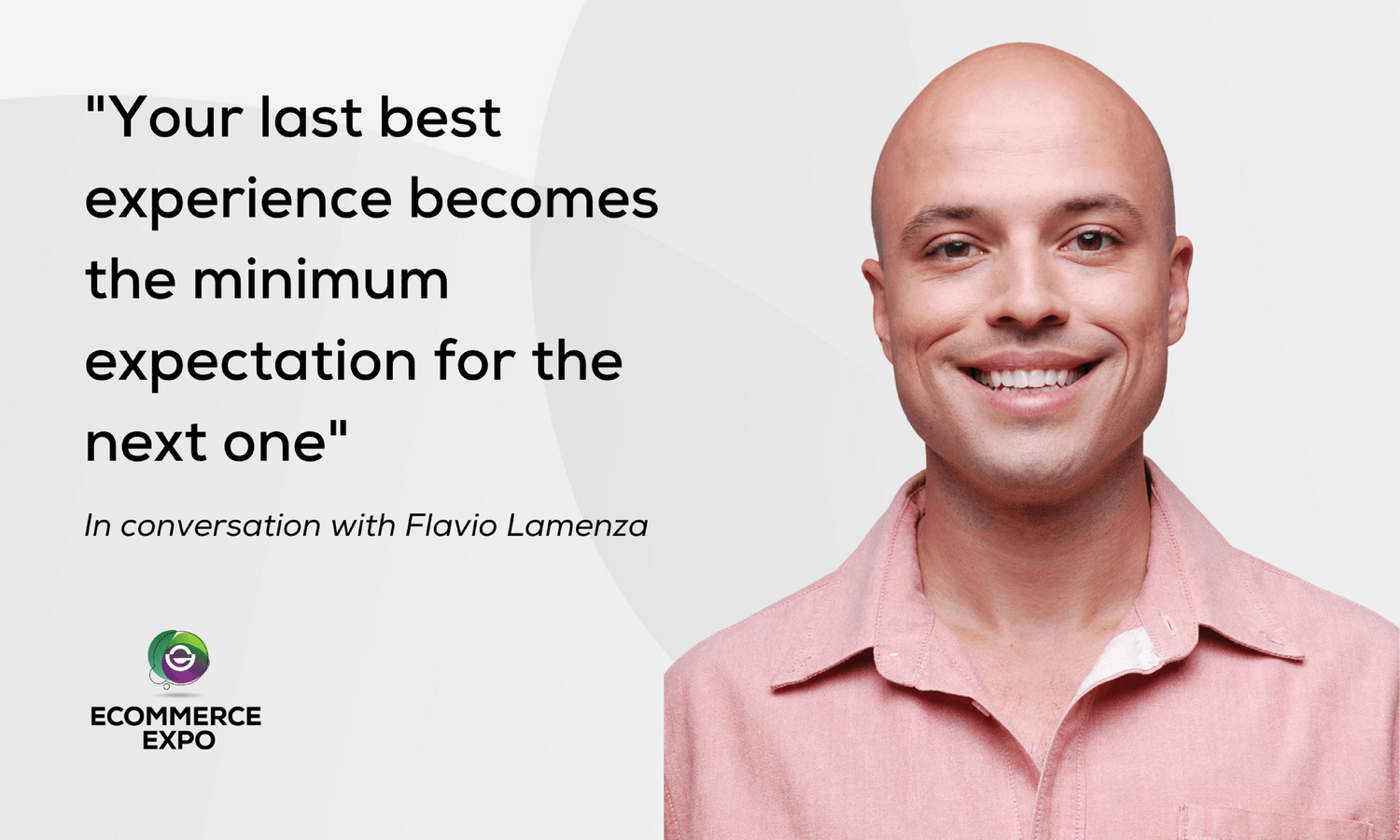 Following his talk at Customer Week 2020 in collaboration with IMRG, I sat down with Flavio Lamenza with a virtual coffee to discuss how expectations around good user experience have changed since the lockdown, how retailers are getting it wrong with conversion, and what the future of user experience design in retail will bring.

Your talk at Customer Week was titled, 'Your last best experience becomes the minimum expectation for the next one'. Can you explain why this is the case?
"There are two points to take into consideration. Users spend most of their time on other sites. (Jakob Nielsen). The most common emotion of them all is the desire for pleasure and the avoidance of pain. (Robert Greene based on Epicurus)
As humans we tend to optimise effort and energy consumption. If you usually do something that takes 45 minutes and you learn that you can achieve exactly the same results in 20 minutes or less, it's guaranteed that the latter will be the preferred method.
In 2007 the Nokia N95 launched as the most advanced phone, but it had one problem... the iPhone launch happened 3 months afterwards. The touch-screen iPhone experience was so much better, faster and easier that all the great features and better technology from the N95 were eclipsed. Customers learn fast and think "I don't need all these things" and if a business doesn't become aware that customers are thinking "how is it like to use this?" then this business might be the next Nokia N95. The competition is a click away.
We are spoiled with same day delivery, contactless payment, one-click checkout, delightful online experiences, click and collect, online reviews, easy refunds, transparent T&Cs and honest copywriting, to name a few. These points are the minimum expectation to many users and it is likely that the more we advance digitally, the more "spoiled" users will be. If a business doesn't catch up or understand about users' minimum expectations it will fail."

Have expectations around good user experience changed since the lockdown?
"Yes, 100%. There's even this joke going around: "What led the digital transformation of your company? A) CEO B ) CTO C) Lockdown". Before lockdown many shops would counter-attack a poor online presence with great customer service on the physical shops at the high street. Lockdown did not leave them an option.
On the tech world, think about Zoom VS Skype: Skype has been around for 16 years! It helped shape online communications, and it was acquired by the giant Microsoft for jaw-dropping $8.5 billion in 2011 (by the way, the same year Zoom was created). Last month, a survey with 1,110 US companies by Creative Strategies showed that 27% of businesses primarily used Zoom for video calls and meetings, compared to 18% that used Teams, and 15% that used Skype. Long-story short, Zoom offers a much better user experience, allowing users to connect via a simple link. This race will be interesting to watch, since Facebook Messenger just copied got inspiration from Zoom and is now also offering users to do video chat by sharing a simple link."

Do you see expectations developing as shoppers flood to online stores as opposed to brick and mortar?
"Yes and no. This situation on lockdown is not representing 100% of reality, since we were all forced into this situation. Customers are more cautious with how they spend money. From my experience I can say that the slight decline on phone sales was not because Vodafone closed more than one thousand stores for 3 months, but because customers have other priorities (family, job etc) as opposed to buying a new phone.
Any supermarket brand with poor online or poor delivery experience suffered. On the other hand, a supermarket with a good delivery and online experience is likely to have hit their 2021 target already. I also observed local shops waiting for lockdown to end so they could open again and return to the new normal with the belief that demand from their community would return. It's too soon to tell if they'll succeed, but if I could give an advice: good online experience means good business."

You've previously spoken about the need for ethics to improve user experience with online stores. What do you mean by this and why is it so important?
"The definition of ethics according to the Cambridge Dictionary is: "the study of what is morally right and wrong, or a set of beliefs about what is morally right and wrong".
Ethical design is about being honest and transparent with the customer. At this exact moment, I know there's an internet provider (in the UK) selling a 24-months SIM only plan called "12 months" and a 36-month contract called "24 months". I consider this as unethical and critical, because it tells a lot about the relationship this brand is building with the customer. Some big businesses, unfortunately, will make unethical decisions that will translate into poor user experience in the long term, but with short gains that will lead to some great powerpoint presentations hitting the numbers for next quarter.
Try measuring happiness or employee engagement in an unethical business... How will you retain talent in an unethical business? It's a spiral downwards from there. Ethical businesses have a very clear proposition, set the right expectation for the user in every step, are candid with communication, transparent and share good values with employees and customers. If it seems obvious, it's because it is :)
Transparency is key in ethics as much as it is in a great user experience."

What are your top tips for retailers and brands who want to optimise their retail site user experience post Coronavirus?
"1. Listen to your customers: this is at the core.
2. Have an open mindset: what used to work before might not work anymore.
3. Listen to your customers: just in case you missed the first tip.
4. Map out ALL the customer touchpoints: An experience doesn't end when the customer leaves your store or sees the "order confirmation" e-mail. What about delivery, e-mail communication, user reviews etc. With all these touchpoints mapped out, what are the reasons the users might have to leave? What are the known frustrations and the delightful moments? From this zoom out perspective you'll be able to address any specific friction point.
5. Are the basics in place? What do you know from your footfall or online analytics? Do you do surveys? How do you reengage with your customers? Just by quickly analysing any analytics tool you are able to see where users are coming from and going to. Some businesses focus a lot in conversion, but what about drop offs? Do you know where users abandon your online journey? Data analytics can tell you that.
6. Here's an unusual tip I love: Test the competition. If you have an online store you can "recruit" customers to go through the competition's website. It's usually an eye-opening learning experience. If you have a physical store, you can do the same, go for a walk in a competitor's store with a customer and ask simple questions such as "How does this make you feel?", or "what stands out in a positive or negative way?""

What are retailers doing wrong at the moment and what can they do differently to inspire customer conversion?
"Some retailers are not doing research with their users. There are a lot of online tools to recruit and perform user test (watching a user go through your website and talk out loud about what's going through their mind). If a business is too embarrassed to do this, or has no time, it might indicate that this business' online experience is poor already...
If you own a physical store, It's quite easy to get customer feedback. Delighted users will often make a compliment and leave with a smile on his/her face. In an online world you don't get to see the user reacting to your digital experience. It's super important to know how users feel, because emotions reward and sustain motivation. If you don't know how users feel, then you might not know what motivates them to make a purchase or buy your product again.
Conversion is tricky to analyse if you don't see the full picture. Sometimes conversion is great until you see the marketing investment... and you find out there is a lot of money being invested to bring customers in. In a bizarre trick, if you stop investing all this money it is likely to notice conversion percentages increase. Yes, you read it right.
Without marketing pushing customers through the door, only the customers really interested will make the purchase, so conversion percentages increase. I'm sure that getting rid of marketing is not on your roadmap, but I'm using it to exemplify the importance of not looking at conversion in isolation.
Are you measuring conversion in every step of the journey? If you are that's great news, because it shows the other side of conversion, the drop offs. Drop offs show how many users abandon the journey. If you know the reasons for a customer to stay + the reasons to leave your journey, you can combine the data and build a recipe to deliver a great experience."

Your favourite example of user experience in retail right now?
"The one I've been talking about the most, currently, is Riverford. For some reason, I wasn't expecting to be impressed by an organic farm that delivers organic food boxes. But I was.
It starts with the homepage banner, that is beautifully hand painted.
Then at the second step of the acquisition journey (once I selected an organic box), instead of pushing me to "customers who bought this also bought this and that" or "frequently bought together" they ask for my postcode. So if they can't deliver, they will stop me at that moment and prevent the user from having a poor experience. If they can deliver they'll let the user proceed. It seems incredibly honest with the user.
There were no automatic recurring payments, no hidden delivery fees, just a simple and easy checkout.
Once I completed the checkout I noticed I was automatically opted out of mail marketing (interesting fair approach) and in the next day I got a very kind welcome phone call with no upsell, just a welcome and thank you call. Impressive."

What is the future for user experience design in retail?
"The future is from inside out. No innovation will come from a poor employee experience, in the first place (which is a topic for a whole other conversation).
I believe the future of user experience design in retail is transparency. Of course we will have VR/AR or whatever other reality 5G will enable, but as we've extensively covered above, if a business is not fair, transparent, honest or ethic, then there's no future for this business.
To end on a happy note, nothing begins good, but everything good begins."

News for You
We're sorry, but we couldn't find any results that match your search criteria. Please try again with different keywords or filters.