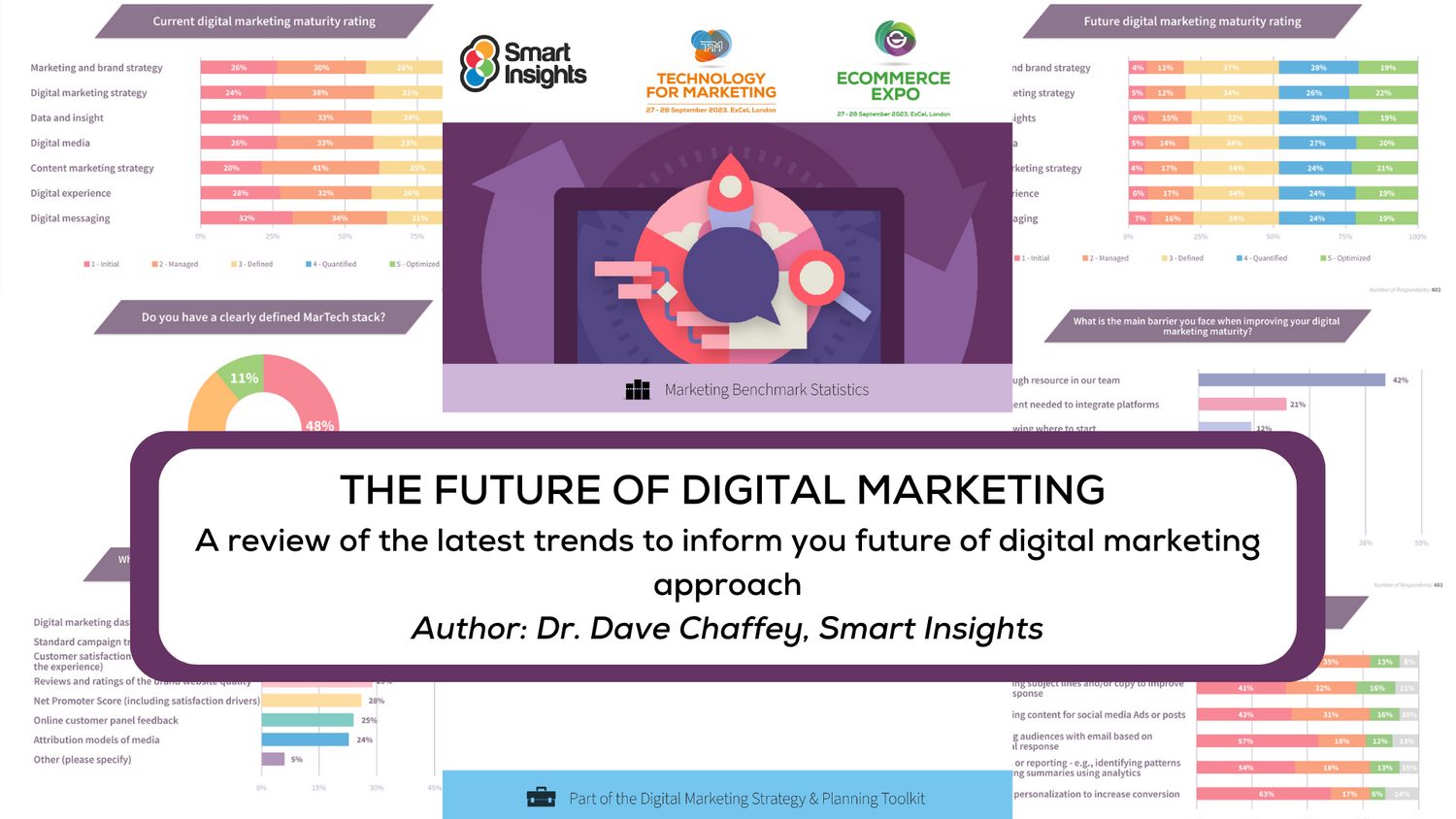 How will The Future of Digital Marketing trends report help me and my business?
Digital marketing today is complex and it's inevitable it will get more complex in the future as new technologies and platforms emerge. In June 2023 we ran a survey with our members- in collaboration with our partners, Technology for Marketing and eCommerce Expo – to better understand the current state of digital marketing and future adoption plans.
In this research, based on surveying 403 respondents, we reviewed the current and future digital marketing capabilities of businesses across Smart Insights' 7 pillars of digital marketing, to help show trends in managing digital marketing and technology. The majority of participants were from the United Kingdom or the United States, of whom over three quarters of respondents were manager-level.
The report shares an array of findings which can help you benchmark your current digital marketing activities, and prepare your marketing tactics and resources for the future.
How is this report structured?
The Future of Digital Marketing trends report is structured across each of the 7 pillars of marketing, following an executive summary and introduction about the survey.
Executive summary
Introduction – the pillars of effective marketing
Survey results and recommendations

Marketing and brand strategy
Digital marketing strategy and governance
Data, insight, forecasting and evaluation
Digital media
Digital experiences
Content marketing (including use of AI)
Messaging including defining MarTech stacks

Summary and recommendations
About Smart Insights
Smart Insights is a self-service digital marketing improvement platform that supports individuals, teams, and organizations to plan, manage and optimize their marketing. Actionable learning and data-driven content covering the full customer lifecycle is provided in a dynamic learning ecosystem to save marketers time, provide quality advice, frameworks and templates that are proven to improve marketing processes and deliver results.
Each month, over 500,000 marketers, consultants and business owners use our blog, sample marketing templates and digital marketing essentials newsletter to follow best practices and keep up to date with the developments that matter in digital marketing.
Thousands of Individual and Business Members from over 170 countries use our premium planning and management toolkits, templates, guides, and digital Learning Paths to map, plan, and manage their marketing using the Smart Insights RACE Growth System.
News for You
We're sorry, but we couldn't find any results that match your search criteria. Please try again with different keywords or filters.