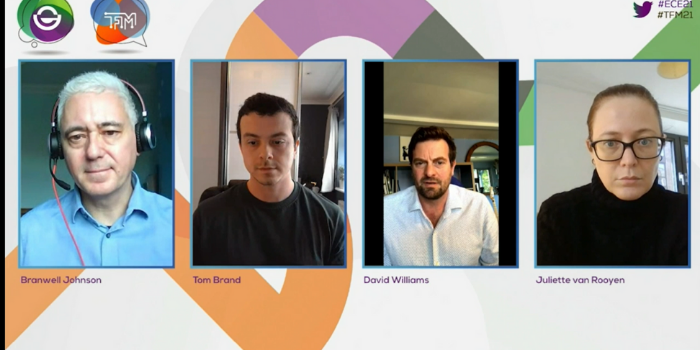 UX from Ecommerce Expo
The dynamic tension between SEO and UX is taking on a new dimension as Google prepares to introduce its latest page ranking framework. Propeller Group's Director of Content Branwell Johnson chaired a panel of ecommerce and SEO experts to explore the topic at the recent virtual Ecommerce Expo.
The panel, called Finders Keepers: attracting and converting customers via search and UX, discussed why SEO practices and the delivery of a great user experience are becoming more entwined and the implications of the forthcoming Google Core Web Vitals overhaul, set for May 2021. Core Web Vitals will rank pages on factors Google thinks important for the overall user experience.
The panelists included David Williams, an ecommerce leader who has worked at brands including Charles Tyrwhitt and Aspinal of London, Tom Brand, Business Director at search agency Found and Juliette van Rooyen, search specialist and founder of VR Squared.
Resetting search behaviour
The influx of new online customers over the past year (driven by the restrictions caused by the global pandemic) means that there are changes in search behaviours that specialist agencies and online retailers have to consider.
As the panel pointed out, many people, especially older demographics, are still not very experienced with search. "They have to learn how to search if they have not traditionally done that before – we are seeing a lot of new searches coming" explained Juliette.
New online customers also expect their user experience to replicate their visit to a physical store, whereas a website can be very different in how it presents stock, product descriptors and navigation. Juliette stressed it was important for new players in ecommerce to assess "how intuitive is your user experience for someone relatively digitally immature?"
Tom stressed that people were coming to sites looking for basic information. "Businesses can overcome this by making sure when a customer lands on a site they show that basic info – let them know whether your [physical] store is open or closed. You need to show what is available and what services you can offer."
David added that it was vital the website answered questions around delivery and any other queries to do with Covid – customers want reassurance and safety around their transactions. He pointed out that 'near me' search had increased visibility this year thanks to pandemic restrictions and retailers and brands needed to make sure they had the right information available regarding stock updates.
This need for trustworthiness in the quality and source of the information being provided is more important for many visitors than the 'brand trust' built by advertising, said Juliette.
The SEO/UX balancing act
The balancing act between good SEO practice and UX is still challenging, as Tom said: "You can have the best experience in the world, but without ranking highly people are not going to find you." He advised testing what works in terms of site content and useability with data analytics and the panel agreed that any proposed changes made to increase a site's user-friendliness should be run past an SEO expert too.
Changes can impact on site loading speed, which is a major page ranking feature. There is an inherent dynamic tension between providing a rich UX with high-definition product shots, video and other engaging content and meeting overall performance requirements. This tension spills into where search sits in ecommerce reporting lines and whether it is considered a marketing channel.
Juliette said that she was seeing more compromise and less siloes between SEO and UX teams and added: "People are more willing to discuss which aspect is slightly more important. It's important to have sharp product imagery that sells the items, but how much extra weight is being added to a page? Maybe there can be a cut back on number of images? When new UX is being designed SEO should be in the room."
Tom's advice for the SEO champion is: "Always go in with data and insights to show people why what you're telling them is important. SEO is a relatively new channel to some people. Once implemented make sure you are reporting on it and showing people the value off the back of your recommendations."
Mobile priorities
The spotlight will fall even more on page load speeds as more shopping is carried out via mobile. Tom highlighted that 'fast' can be applied in different ways to UX, for instance is it better to let the whole mobile page load for a visitor before displaying it or to show part of a page while the rest loads?
Looking at Core Web Vitals, he said that granular details such as how long it takes for the site to react to user clicking on something will be under scrutiny. All panellists recommended a Core Web Vitals audit that checks all pages, not just the homepage, and Tom warned: "Retailers should start reviewing now. With these changes it will not be an overnight thing [to meet them] – changes will be difficult to implement, and sites have a lot of complexity and there's a lot of development work involved."
Looking ahead beyond meeting requirements for loading speed and a strong UX, the panel see challenges with personalised pages. The benefits of personalisation, such as an apparel retailer surfacing a Plus-Size range to specifically interested visitors, might be obvious. But which version of a page is Google going to rank? "Google will not understand the full eco-system on a site," Juliette explained.
David summed up the ultimate goal of all ecommerce practitioners which lies in delivering "a good enough value proposition" to potential customers. If a retailer can do this then customers will share useful data that can improve the UX and lead visitors on to become repeat customers.
News for You
We're sorry, but we couldn't find any results that match your search criteria. Please try again with different keywords or filters.