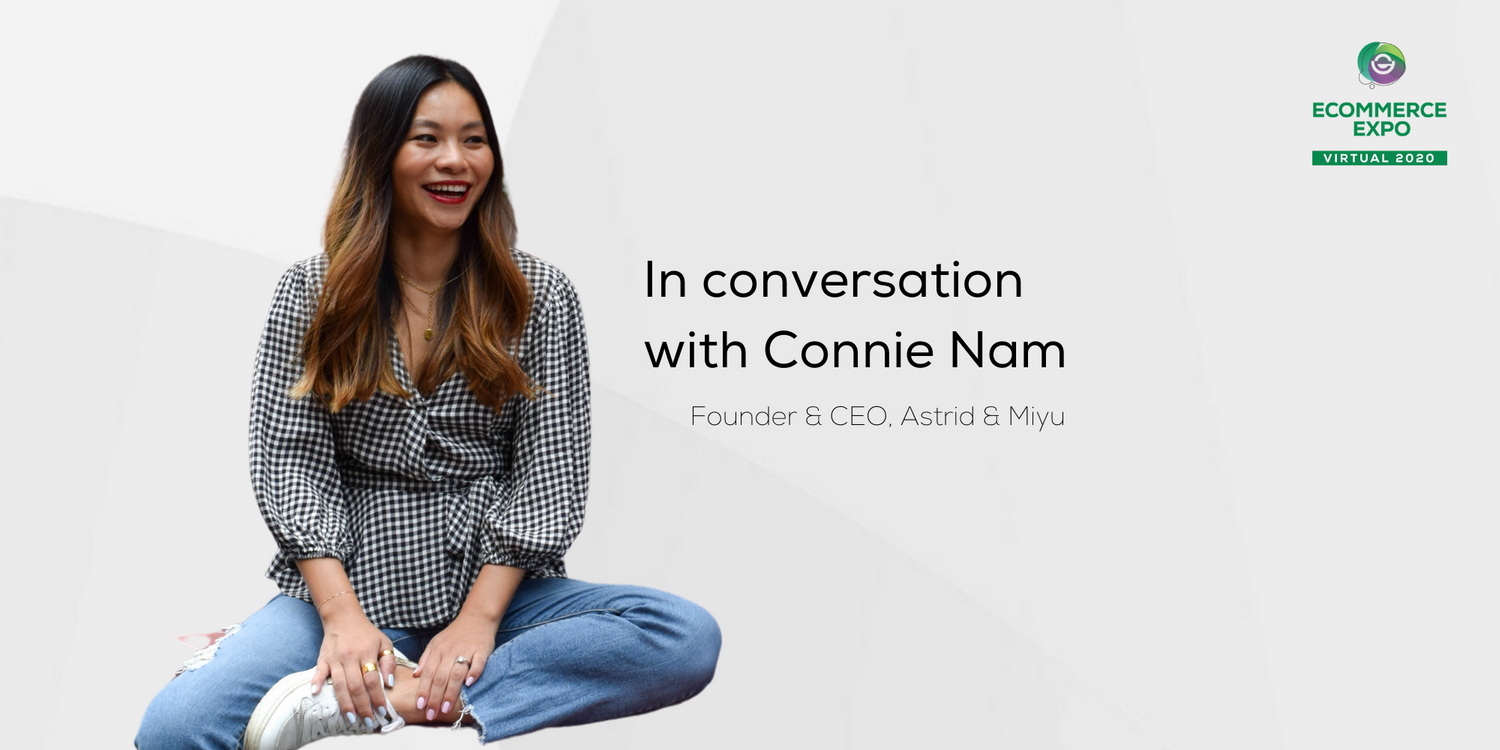 Sam Tidmarsh sits down in conversation with Connie Nam, founder and CEO of fast-growth jewellery brand Astrid & Miyu ahead of her session at eCommerce Expo Virtual 2020. Connie discusses the difficulties faced in brick-and-mortar retail, the importance of ecommerce amidst a global pandemic, the opportunities available through effective use of social media, and the technology which powers her brand.

How are you? How have you found lockdown?
Good, thank you! Lockdown was initially stressful, having to adapt to the pandemic almost overnight but we managed the situation really well as a team.
Looking back, I feel very proud of how we came together as a team and adapted the entire business and the way we work. We had to implement shutting down all our stores and organise the processes involved in doing this, ensuring our staff were supported and informed.
After the initial lockdown shock, we became productive and adapted to the new way of working. It was important to us to keep our company values strong, stay in regular contact with each other and keep the social aspect of the business running.
When a crisis hits, it really makes you step back and look at things from a different perspective.
As a business, we are now a lot more considerate of where and how we spend our budgets, we have started looking at our processes and identifying the things we do well and things that we can change to better the business and improve ways of working. We are being smart with all aspects of the business.
After initially finding home working a bit of a novelty, our team is finding it a little tedious now, missing the buzz of the office, face-to-face interaction and socialising with their peers.

With the impressive speed at which Astrid & Miyu has grown, have you found most success in ecommerce or brick and mortar, and why do you think this is?
For our brand, both have been equally important as they do different things but, ultimately serve the same customer.
In store, we provide an experience and human interaction that just cannot be replicated anywhere else. Our store leaders and their teams interact and build relationships from the get-go with our customers, which results in repeat purchases and a loyalty to individual stores.
Online, we provide a community space for our customers, sharing content and inspiration – it's a continuation of our stores and we've really focused on making our online experience as engaging and community-led as possible in recent months.
Our online space helps to build brand purpose and loyalty with our customer base. Obviously, the retail landscape has changed slightly since COVID, but before the crisis sales between online and instore were almost fifty-fifty.

Astrid & Miyu have 4 stores in London, 2 concessions, in London and Manchester, plus a few pop-ups in New York. In light of the pandemic, how important was it for Astrid & Miyu to be focused on ecommerce over bricks and mortar?
It was a matter of survival and so crucial to our brand to be focused on the ecommerce side of the business.
When we went into lockdown, like all businesses, we didn't know how long it would last and how long shops would be shut with the government restrictions in place, so we had to act fast and put all of our resources into our online offering so that our customers could still shop and the business could continue operating.
Luckily, we were built as a digital brand, so we were able to shift the focus completely to online. Today, I think it is vital for businesses to have a fully operating, digital ecommerce offering for their customers as more and more consumers, in particular older generation, have dramatically adapted to a new way of shopping, therefore likely contributing to increased share of online spend.

We talk often about omnichannel ecommerce and the benefits it brings. What does omnichannel mean to you, and how does it fit into the strategy you have for Astrid & Miyu?
Omnichannel simply means providing an overall experience for our customers. It is symbiotic to our physical business and it provides our customers with everything they need to shop, interact and communicate with the brand online.
Omnichannel also helps to build customer loyalty as, when done right, you deliver the best possible customer service for your following around the clock and at the click of a button. We know we are doing things right online as our online sales have seen a spike in sales whenever we have opened a new store location.

Astrid & Miyu has a sizeable Instagram following at 262,000 followers. Do you find a lot of your business derives from Instagram?
A massive share of our sales come from our Instagram channel. Most of our customers first interact with our brand via our social media and usually through Instagram as it is so visual and user-friendly.
We work with a lot of influencers on the channel who help to drive interest onto our Instagram feed and support with converting sales. We often see customers coming into store with screenshots of images from our Instagram page with styles of piercings and tattoos they would like us to curate on them.
It's certainly a point of inspiration for us and our customers and that is part of its purpose – to be an extension of a brand's content creation along with an ecommerce channel.

How do you action data insights available through social? Are you actively measuring social media activity or using any monitoring techniques to help improve customer experience?
First and foremost, we monitor comments on social and DMs from our customers to ensure we're fully engaged, responsive and on hand to help with anything they need.
We also hold customer surveys to gain a better understanding of what they are looking for in our brand. We want to know exactly what our customers want so we really listen to feedback and it informs how we develop the business and our product offering.
We monitor engagement on posts and use the data to plan for future social content based on works best for our audience.
In terms of monitoring tools, we use Instagram insight as well as Iconosquare – a social media analytics tool that monitors the performance of the influencers we work with.
Google Analytics is another tool we use to track and monitor sales performance and understand how much of our website traffic comes from our social channels.

What do you think about the opportunities becoming available with shoppable social, especially in light of Instagram & Facebook Shops? Do you think this will benefit Astrid & Miyu? Do you think this will benefit the user journey across channels and the customer experience for Astrid & Miyu?
I think this is the next step in experiential marketing and will benefit customers massively. We get bored easily and, as consumers, we are becoming lazier so it's an easy way for customers to shop and experience a brand all in one place.
Consumers need less friction to convert especially with so much content and competition out there, so these features will definitely benefit brands like us.
Following the pandemic, we're seeing a big shift towards online, so shoppable social is naturally presenting huge opportunities for brands and their e-commerce sales.

Can you tell us a little about the technology that you've been using along your journey?
We use a combination of technology tools at Astrid & Miyu to help us continually improve our online presence and ecommerce sales.
Shopify is our platform for e-commerce as well our retail POS. We use Google Analytics to monitor business trends and customer insight and email marketing tool, Ometria.
The latter really helps us to develop and understand our customer base and enables us to deliver tailored experiences for our shoppers which, again, delivers on our customer experience.
That is so integral to our brand. It's vital for ecommerce businesses to invest in this type of technology, whatever the size of the business.
Due to the pandemic, our retail sales have naturally dipped in the first half of 2020 but our online sales are up more than 100% year on year as a result of our renewed focus on both our online community and the investment in technology and digital tools.
We have also prototyped 100% of our recent jewellery designs through 3D printing in London which is a huge innovation – we have been able to shorten lead times by a month while reducing carbon footprint! I think it's important to take risks and innovate to be a leader rather than a follower when it comes to new technologies.

What technology have you seen recently that excites you the most?
TikTok is my most recent excitement! Its popularity accelerated in a big way over lockdown and I can really see the appeal, save the recent issues around privacy. It's a more fun and less curated version of Instagram and appears to be ageless in its following, it's so easy to use and is authentic in its content.
I think it's the social media channel we have all needed to cheer us up during what has been quite a scary time. Worldwide, TikTok has 800 million users so should not be underestimated as its reach is massive.

Astrid & Miyu is primarily a female-led company. Do you find this has distinct benefits?
We never intentionally hired all females, but as a contemporary fashion and jewellery brand, aimed at women, I think we have a certain appeal to that demographic as an employer.
We have such an amazing team and the office is always buzzing with ideas and inspiration. With our target market essentially being our staff, everyone is always so passionate about our products and it helps us to develop our brand and the products as the team is so invested in what we do.

What is your vision with Astrid & Miyu for the next five years?
I want Astrid & Miyu to become THE global cult jewellery brand over the next five years. During our business growth we have seen such a high demand wherever we go, particularly when we have opened up pop up stores overseas and as a brand, we have a great customer base who really care about the brand and help us to grow and develop each day, so we know that this vision is achievable.
News for You
We're sorry, but we couldn't find any results that match your search criteria. Please try again with different keywords or filters.