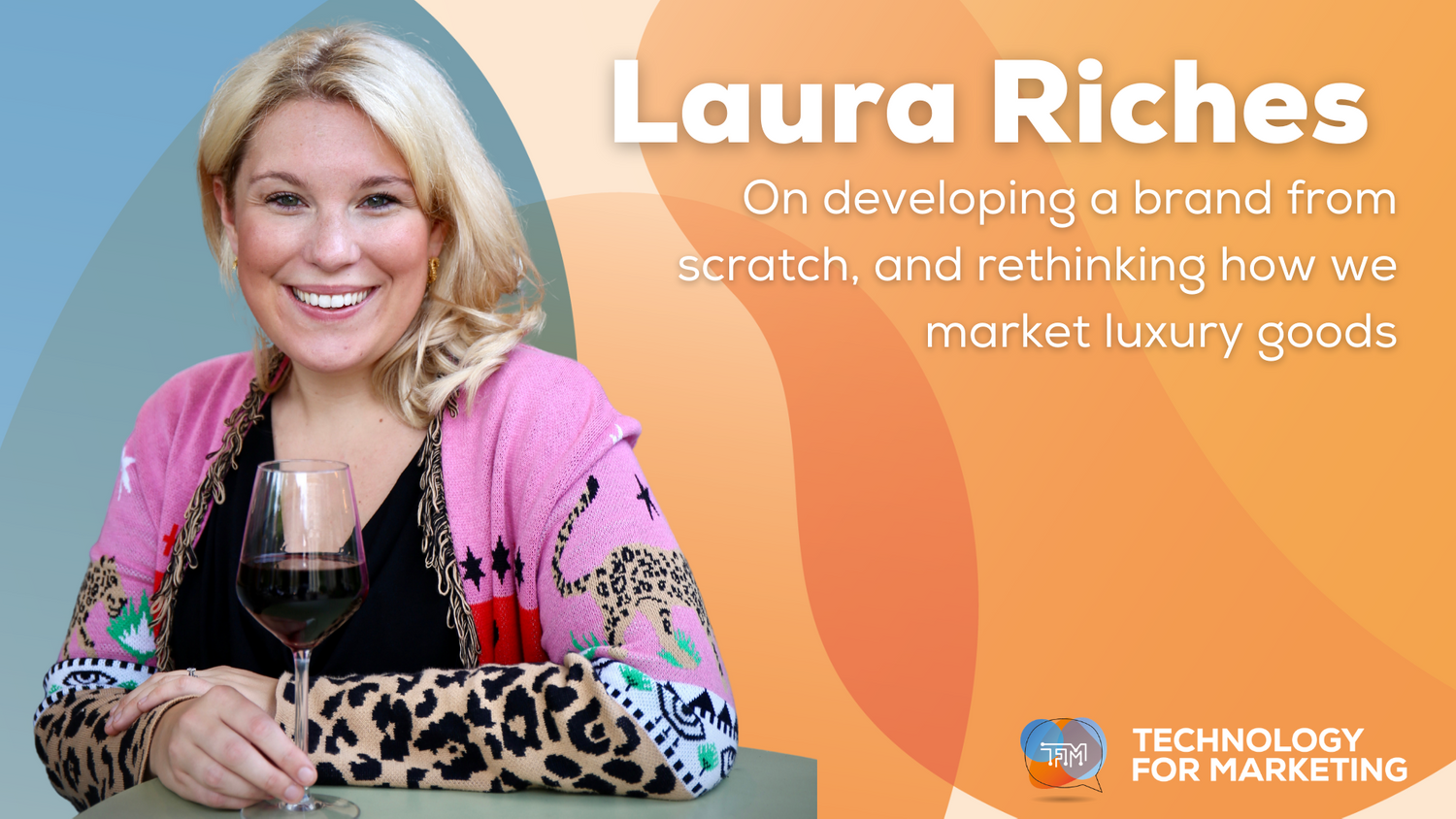 Creating a Brand from Scratch with Laura Riches, co-founder of Award-Winning Startup Laylo
After starting out as a consultant for brands like M&S, Sainsbury's, and Selfridges, Laura Riches became the marketing director for Naked Wines, where she met her future business partner, Laura Rosenberger. Together, they founded Laylo during the pandemic and set themselves on a path to reinvent boxed wines.
We had the opportunity to talk to her about the challenges of developing a brand from scratch, and how to inject creativity into marketing luxury goods.
Let's talk about your career so far. How did you become the co-founder of Laylo?
When I graduated from university, I wasn't quite sure what I wanted to do. So in 2010, I joined a consultancy called Javelin. Being a consultant seemed like a good idea because I could work on lots of different projects and specialise in retail which I loved. I got to work with Marks and Spencer's, Sainsbury's, Selfridges, and more. At some point, I became aware of Naked Wines through my network. I was really interested in wine and wanted to learn more, so I signed up for a wine subscription. About a year later I got a call from Rowan Gormley, who was the founder of Naked Wines, asking me if I wanted to join the team there as marketing director. I didn't have any marketing experience, but we got along like a house on fire, and I was completely sold on the company. That was my first job in wine, in 2016.
While there, I met Laura Rosenberger, who's now my co-founder at Laylo. She was the COO, so we worked really closely together, but we also just loved having a glass of wine together. I eventually left to have my daughter, and the pandemic happened right as I came off maternity leave, which was terrible timing. So, I decided to go back to my roots and do a bit more consulting, this time freelance.
Over that time, I started to think 'Well, maybe I could start a company.' And then Laura texted me saying she had this idea to start a boxed wine company and I'd had exactly the same idea. We thought we might be onto something.
I had never set out to be an entrepreneur. I hadn't necessarily thought that it would happen to me. But a combination of timing and meeting the right people, including lots of founders, kind of brought me to it.
Did you have a precise idea in mind for Laylo from the get-go?
We were really clear on two things from the get-go. Number one was that it needed to be top-quality wine. This is really important to us because boxed wine has a sort of reputation for being poor quality, so we needed the wine inside to be completely different. And then the other thing was design. Box wines that exist in the world, and there are, often apologise for being in a box. They're the sort of thing you would want to hide away. But actually, you've got five faces visible that you can tell a story on. We wanted to break the stigma by having something that looked completely different. We were crystal clear on what we needed from the beginning, which was essential as we needed to get something out before Christmas. We only had 3 months to go from having this idea to getting it on the website.
You essentially started from scratch and got the brand up in 3 months. How did you go about it?
What was lucky is that despite having the same idea, Laura and I have different skill sets, so before even talking about it, we had naturally worked on different parts of the projects. We also had the right network of winemakers. And at the time, of course, bars and restaurants were closed, so a lot of winemakers had tanks filled with wine that they wanted to get rid of.
And then honestly, we just had to go for it and make decisions fast.
Was it stressful?
There were elements that were stressful, like the fact we had invested our own money. But at the time it wasn't our main job, and we were still working full time, so we weren't reliant on the project working. It was a side hustle. Overall, it was mostly good fun from the start, and during the pandemic, there wasn't much else to do.
How did it go from a side hustle to full-time activity?
We first launched in November, and then it got picked up by William Sitwell, a food and drinks critic for the Telegraph and MasterChef judge. He started shouting about us, and we sold out the first batch of 2000 litres of wine in two weeks. It became clear we were onto something that people wanted. We had to pay a lot of things up front. And so over that Christmas, we decide to invest ourselves full-time. In some ways that meant we had to make that decision sooner than other people might do because we needed to raise investment, create, and source a lot of products, and that required our full attention. We resigned from our jobs and took the plunge.
How did you put Laylo out there and made sure it reached the right people?
We started off with a direct consumer approach with our website, and that's still the main part of the business, although that's changing now. We didn't have loads of money, and acquiring customers can be quite expensive. At first, we started like everyone else does, and tried things like paid social. But we realised we needed to be more creative in our outreach. We focused most of our efforts on PR, because people feel nervous about buying wine, and having an expert or someone who knows about wine telling them what to buy is really powerful. We also used LinkedIn to publicise some stunts, like giving free corkscrews in the city, or a 'Whispering Angel versus Laylo challenge'. And how that worked is we did a blind taste test with people in the streets and people preferred Laylo, which was great. Overall, because we didn't have much money, we had to be creative and think differently, to the point we don't do any paid social nowadays. We got fed up with just injecting money into these channels that don't deliver any return. This week we have a flamenco dancer booked to dance in Covent Garden while we hand out samples of our Malbec!
How do you balance creativity while making sure to stay on brand?
"Just because something is high quality doesn't mean it needs to be boring."
Think about someone like Anya Hindmarch who makes luxury handbags with smileys on for example. A brand can be premium and not have to behave in a straight-laced way. And I think that's particularly true in wine. There's this perception that great quality wine needs to be served from a dusty bottle by someone wearing red trousers who went to Eton and it's just not true. We try and demonstrate quality through the wine itself. We work with wine critics, and people of authority. We also try and bring the spotlight onto the winemakers themselves to tell their stories. We're really breaking down an intimidating category.
Laura's conference at Technology for Marketing 2023
Tell us more about your Technology for Marketing 2023 speaking session.
"Going from zero to a million: things I've learned by creating something from nothing."
I used to work in a big business, and at Naked Wines, I congratulated myself on things like growing the business by X percent per year when actually it was already an established brand that had tried and tested many things. And so, naively, I thought that with Laylo it would be quite easy. I thought I'd just take those learnings, apply them, and then customers would come.
The main learning that I learned from those early days is that no one cares. People haven't heard of you, so no one cares. It takes a lot of effort to get someone interested enough to actually turn up to your website, and the first £1,000,000 of revenue is the hardest to earn. For the conference, I've tried to think of people who want to start their own company, and what shortcuts I can give them. Hopefully, there will be some humour in there as well, because reflexively I find it very funny how I was convinced I was going to absolutely smash it, but it really was an uphill battle with lots of learnings.
Don't miss your chance to see Laura Riches live! Join us at Technology for Marketing 2023!
Quick-fire questions
What is your favourite social media?
Linkedin.
Your biggest pet peeve as a consumer?
Jargon, especially wine jargon.
What tool do you use the most on your laptop?
I really like screenshotting. I love seeing what other people are doing, and I'm constantly sending screenshots to the team.
Your wine of choice?
White burgundy.
What do you see in the future of marketing?
More real people as the figureheads of brands?
What do you think of B2B becoming more like B2C?
I think that's smart because people are still themselves at work.
What inspires you regularly?
I love podcasts. I listen to everything from parenting hell to politics.
News for You
We're sorry, but we couldn't find any results that match your search criteria. Please try again with different keywords or filters.