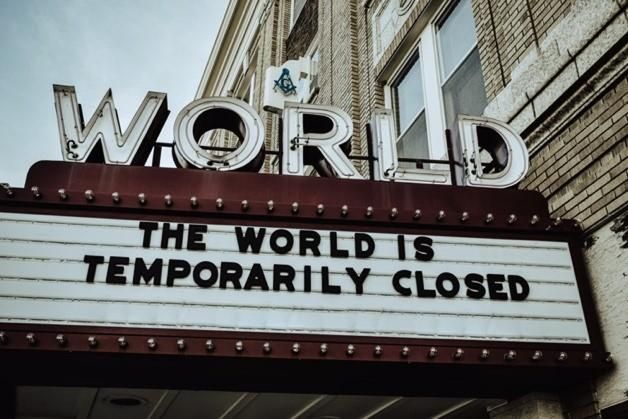 Covid-19 is Pushing Many Retailers Underwater: 3 Decompression Stops to Support Safe Resurfacing
The pandemic has shattered consumer confidence and emptied shelves, shopping malls and high streets. There has been a swift negative impact on many retailers' revenues that rely heavily on bricks and mortar stores that have closed in response to government mandates.And, given that 84% of total retail sales are bricks and mortar, the lost sales will not be recovered through eCommerce.
Unfortunately, this is the second recent hard hit to retailers. Many businesses were counting on the disappointing 2019 Christmas season to help make up for soft year to date sales.Then COVID-19 delivered a blow unlike anything this generation of retailers have ever had to contend with. So, it is concerning, but not surprising, that research by J.P. Morgan Chase puts the median small business cash buffer at just 27 days before the impact of COVID-19hit. http://www.marketwatch.com/story/small-businesses-could-crumble-in-45-days-or-less-as-coronavirus-pandemic-takes-a-toll-2020-03-16.
There in no relevant playbook for retailers to reference in this situation. At the time of this writing, no one knows the full extent of the COVID-19 impact. There are many unknowns including how deep the damage will be and how long it will last, if there will be a second or third wave and what those waves will look like. No doubt, social-distancing measures will be required, but savvy retailers are both making measured decisions now, and planning for the months ahead to safely resurface when this is all over.
1: Take Immediate Action
Now is the time to really dig into the numbers. Confirm financial reserves. Cash and line of credit. Current run rate. With that in mind, what are the most significant line items that can be cut or reduce the drain. The obvious one is rent. There are several great complimentary webinars and articles being offered on how to renegotiate with your landlord. https://www.retail-insider.com/retail-insider/2020/3/free-webinar-thursday-negotiating-rent-relief-in-a-coronavirus-world. Keep in mind that deferred
payments may not be in retailers' best interest given the run-rate is likely to remain lower for some-time after the shelter-at-home policy is lifted.
What can be done to reduce pay-roll. Given the notoriously high average turnover rate in the retail industry (60%) it simply doesn't make sense to cut ones best front-line employees unless there is truly no other choice. Taking care of your staff is a big indicator of your brand values and has a long-lasting impact on both employee and customer loyalty. Consider allowing those most impacted by the situation to suggest solutions. You may be surprised by those affected have the most effective solution.Many retailers are redeploying their employees to help in new high-demand areas.One of Canada's largest retailers, for example, have deployed some central office personnel to restock shelves. Others are helping with the surge in curb-side pick-up.
Supply chain is a big factor for hard and soft goods retailers. Goods were delayed as factories shut down in China at the beginning of the COVID-19 break-out then production and shipping started up again at different times. Many retailers are facing surges of delayed inventory and at the same time forced to make calls on how much,and what type, of inventory needs to be cancelled for the back half of the year.Retailers are looking at the cancellation penalties in their purchase orders with focus on what can be easily be moved through online channels and how best to cut their losses. Some are even writing off the quarter by taking the radical step of packing up seasonal inventory and storing until next spring.
Customer empathy is critical for long-term survival in both policy and messaging.Service providers who do not suspend annual memberships, for example, despite no access to their facilities, will drive customer churn and damage brand reputation.
This is about brand survival not only today, but a year or two from now when this crisis is finally over. Those retailers that make decision without view to the longer-term are doomed to fail. Managing for the health and welfare of employees, customer empathy, relevance and liquidity must all be taken into account.
2: Strategize to Stay Alive
For a retailer to survive for an indefinite period of time means placing educated bets to generate profitable revenue such as continuing to invest in a superior e-commerce customer experience. And if a retailer doesn't have an online presence,now is the time to develop one, along with a clean email list. Fear of virus exposure means people's taste for eCommerce will likely grow, and this could result in a marginal, but permanent, shift from bricks and mortar to eCommerce.
Having robust online capabilities is obviously a significant advantage during this crisis. However, it will be difficult, if not impossible, to make up for in-store transactions. This necessitates another adjustment. Food, toiletries, cleaning supplies and other essential items are being pantry-loaded right now but there will be an inevitable drop in higher margin discretionary items as unemployment climbs and depression follows recession. eCommerce alone is not the silver bullet.
Retailers of essential products have an important societal responsibility to be great managers and communicators of inventory positions. Offer transparency on out-of-stock situations and replenishment timelines. Manage panic buying. Be truthful and reliable on what can and can't be done and customer loyalty will build.
Leverage brand strengths to build brand appeal. Manufacture demand by leveraging social media by asking for support from people that already love your product. Leverage your unique brand strengths. As a smaller retailer you may be far more important to the local community than a faceless international brand. Ask for help, and you will be surprised by how much people are willing to support you. After all, they want your business to resurface. But let's not forget that it is a relationship and as they help you, you should consider rewarding them.
In tough times, retailers typically fall back on discounting but when this used too often it becomes a blunt instrument. Good retailers will be telling stories, creating engaging content and featuring products in a way that resonates with consumers and their present circumstances. They will also be doing good things that help out during this difficult time. All of this can be hard, but authenticity and genuine connection are becoming increasingly meaningful during these stressful times.
Creativity for service providers is especially critical to keep customers engaged. It would be naïve to assume, for example that 100% of customers will flock back to their old gyms once they've invested in, and discovered the convenience of, at-home workout equipment or found that touching up their roots at home takes only$10 and 10 minutes instead of $100 and 90 minutes at their favourite hair salon.This is where owners have to understand that their services are not just functional but also emotional. For example, a local pilates studio owner contacted me about how to keep her business afloat when forced to close. She was offering videos to customers download and guide their work-outs at home. I suggested that she was meeting a functional need of her customers but not necessarily the emotional need. People need to feel connected and for many, their local gym/pilates/yogastudio are important on both levels. I suggested offering an online streaming schedule including virtual cocktail hours. She was skeptical, so I suggested she poll her customers. The response to both the survey and subsequent streamed classes has been overwhelmingly positive. She is even attracting new clients to her new services through referrals. In fact, as she is exposing customers to other types of classes, such as barre, that they might not have otherwise tried, she might find her cross-class participation lifts once the pandemic disappears.
Customer empathy and brand action are important. Many have lost their jobs and others worry about future income. Most have little appetite to buy a new work-outfit when they have no idea when or where they will be going back to work. We need to think about pulling back on spotlighting inventory that may be less relevant and focusing on appropriate messaging, "According to the third wave of IMI's examination of consumer perceptions of COVID-19, which polled 900 Canadians over the course of last week, 35% of Canadians say they want companies to inform them about how to avoid COVID-19, while 31% say they want companies to donate a portion of sales to local hospitals and 28% want them to partner with other companies to maximize the impact of their efforts to help. Only16% said they'd prefer companies "donothing."https://strategyonline.ca/2020/03/31/what-canadians-want-to-hear-from-brands-right-now/. Offering discounts, free shipping, and fast delivery times for online orders are definitely smart strategies for retailers during this pandemic. In addition, for lifestyle retailers and image retailers like sporting goods orfashion/cosmetics, engaging with customers with tips on how to deal with isolation are great ways to increase loyalty. For example, tips on how to stay active or feelgood about yourself can go a long way in terms of building relationships with customers.
Another best practice is to reconsider your return policy so that is empathetic, but fair, such as one national drugstore chain that is extending their return window but accepting no returns at retail at this time to minimize staff exposure to customers.
For brands that have a lot of customers that prefer the convenience of retail, but not necessarily the bandwidth to support it during the pandemic, and want to minimize front-line workers exposure, put clear and understandable guidelines in place to 'encourage'/support customers to engage online.
As a brand leader, we must take care of our employees and don't ask them to do anything we wouldn't do ourselves. Put customer policies in place to enforce social distancing such as limiting number of customers in a store at one time. Install plexiglass barriers for cashier/pharmacists. When this is all over, customers and employees will remember how you made them feel.
Be generous when you can. Several high-profile brands have turned-over their lines to create masks or ventilators. It is beneficial for the health of both society and your brand.
On the flip-side, don't be greedy. Those retailers who hoard or mark-up limited-supply products that impact our safety such as disposable gloves or hand sanitizer deserve to be shunned and will long be remembered for their self-serving behaviour.
3: Plan Your Ascent
After this is all over, we as a society will be forever changed. We have been assaulted with fear for an extended period of time. Most of us have never experienced this kind of unrelenting stress and responsibility to keep our family safe. It is a true test of our resiliency. And even if this situation improves by Q3,fear of a second wave in Q4 may encourage people to limit their spending. Regardless, our shopping habits will be changed. We will experience and become accustomed to new ways of doing things to stay healthy, fed, groomed and clean our homes. We will have become used to becoming more self-reliant.
Retail revenue will rebound, but not immediately, and not necessarily in the same way. People are developing new habits that meet their needs now and will find that these new habits will work very well in the future. Our work habits will be changed.Many companies will be reassessing their work at home policy. The debate will now be infused will real-life experience versus theoretical debate on productivity/cultural impact etc. For example, this will have a real impact on fashion retailers with likely an even steeper tilt towards athleisure. There will be an even greater demand for at-home technology to work with optimal efficiency.Commercial real-estate will become more affordable.
So, we need to anticipate for this new world and new customer. Build our plans to become indispensable with a modern twist. We need to think about how to position our business to be ready for what's next when we surface.

S H E L A G H S T O N E H A M - President, PowerWearHouse™
Ms. Stoneham is President of Power WearHouse Inc. Its professional line of weighted wearable training products helps build power and endurance for serious athletes. The consumer line supports enhanced bone health, improves muscle tone and accelerates fatburn. Prior to starting Power WearHouse in 2019, Ms. Stoneham was Senior Vice President Marketing, Chico's FAS in the U.S., a women's specialty retailer; Senior Vice President Marketing Shoppers Drug Mart, one of Canada's largest retailers and Senior Vice President,General Manager Rogers Communications, Canada's leading telecommunications company. She is an award-winning brand thought leader with a relentless drive for innovation and excellence. Ms. Stoneham serves as Director of the Global Retail Marketing Association™ (GRMA) &eCommerce Expo, Technology for Marketing.
News for You
We're sorry, but we couldn't find any results that match your search criteria. Please try again with different keywords or filters.