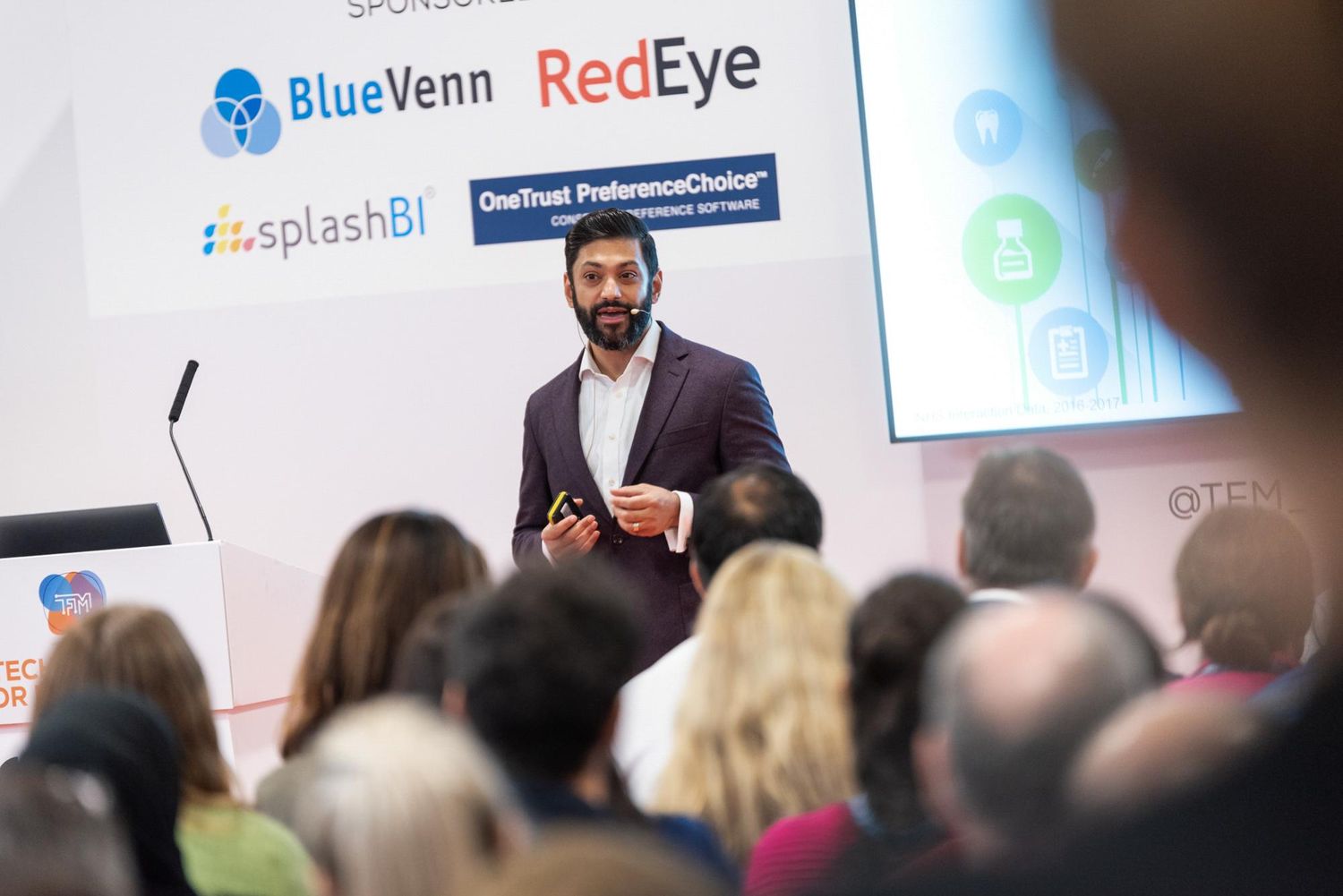 Brand innovation, data privacy and 'digital sickness': In conversation with Sam Shah
Digital health tech advisor and former NHS digital transformation leader Sam Shah joins Sam Tidmarsh for this quickfire Q&A. Sam discusses some of his favourite applications of technology, what he means by the term 'digital sickness', and addresses concerns around data privacy for the NHS contact tracing app.

What was your biggest takeaway from leading digital transformation for the NHS?
Digital transformation is difficult in any environment. In the NHS, it's particularly hard due to the difficulties in getting funding and the regulatory environment. In my experience, we must focus on the people, both citizens and staff; and we have to focus on the value exchange, so that we deliver the business benefit.
Can you give an example of some tech you've seen recently that you've absolutely loved?
There's so much to choose from, for different reasons. But recently I did see an online physiotherapy product, EQL, which was excellent in design, also because it was transformational.
You've previously used the term 'digital sickness' and commented on the problems with social media around instant gratification. Do you think Covid-19 is going to lead to proliferation of rising anxiety levels?
Undoubtedly COVID19 will result in a whole range of problems, digital addiction, digital anxiety and more general PTSD. We will need to do much more to help reduce anxiety levels from everything that goes hand in hand with COVID19, including excess use of technology. People have changed the way they have worked overnight but other elements of their lives have disappeared, for example, a walk to get a bus or getting on the tube.
Can brands help, and how?
It's difficult to have an approach for all brands as they are all so different but the most important thing is to remain engaging and present for your customers. Understand what they want and also avoid bombarding them with marketing material. Brands really need to understand their target audience and think about their customers.
Do you think now is a time to do things differently, or simply speed up innovation you already had in the pipeline?
Innovation can be double edged, sometimes it may not be true innovation so an opportunity to reflect and really test if something meets a business need and whether it's going to add value. Brands also need to test their pipeline based on the market as a whole and work out if the assumptions still hold true. Society will probably behave differently after COVID, which includes their patterns for buying and consuming products and services so brands will need to respond differently.
Do you think data privacy is a problem with the plans for an NHS contact tracing app?
Plans for the NHS contract tracing app may be difficult to follow as there is some information from the NHS, but there is conflicting information unearthed in the media. Ultimately we need transparency from the government about how it'll work and how they'll use the data. Whilst there may well be acceptance now about the privacy risks whilst we are in the middle of COVID19, in a few years' time when it emerges about any privacy risks, I am not so sure that the public will be so forgiving.
What is your lockdown routine like?
Lockdown has certainly changed things for me. I have become much more immersed in clinical practice and helping my teams who are delivering urgent care services but I've also found myself in back to back video calls. Small things like going to a coffee shop or walking to the station have disappeared so I have had to learn to break up my day in different ways.
It really helps that two of my co-workers are 8 and 3 years old. They have helped decorate the open plan office with a mural on one of the walls and a new art installation made of recycled boxes and masking tape. New parts of the routine have also included smoothie breaks with all three of my co-workers.


Sam Shah is a clinical leader with an interest in healthcare technology, digital experience, translational research and supporting behaviour change. NHS Consultant with experience in clinical commissioning, service redesign, public health, workforce planning and health economics.
Digital Health Tech Advisor | FT 4th most influential BAME techleader 2019 | Finalist 2019 Digital Leaders100 | BIMA 100
News for You
We're sorry, but we couldn't find any results that match your search criteria. Please try again with different keywords or filters.